CD Review
Eldar Djangirov Plays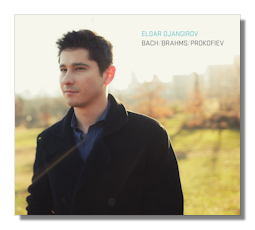 Johann Sebastian Bach: Partita #2 in C minor, BWV 826
Sinfonia
Allemande
Courante
Sarabande
Rondeau
Capriccio
Johannes Brahms: 8 Pieces, Op. 76
Capriccio in F Sharp minor
Capriccio in B minor
Intermezzo in A Flat Major
Intermezzo in B Flat Major
Capriccio in C Sharp minor
Intermezzo in A Major
Intermezzo in A minor
Capriccio in C Major
Serge Prokofieff: Piano Sonata #7 in B Flat Major, Op. 83
Allegro Inquieto
Andante caloroso
Precipitato
Nicolai Rimsky-Korsakoff: Flight of the Bumblebee
Eldar Djangirov, piano
Motema MTM116 64m
I previously reviewed a disc by Eldar Djangirov in 2011, the Sony CD of his collection called Three Stories (Sony Masterworks Jazz 785433). It was a crossover album containing a mixture of classical, jazz, Broadway and improvisatory music that I found well played and of general appeal to a broad spectrum of listeners. This new CD is all classical and obviously directed at a smaller market. If Djangirov's fans follow him into this latest foray, they will find considerable rewards here. Also, those new to the talent of this composer/pianist should find his performance of this considerably varied repertory of substantial interest.
Regarding that "varied repertory", can you imagine three more stylistically disparate composers in the classical realm than J.S. Bach, Brahms and Prokofiev? Playing them is kind of like going from lean perfectionism to lushness and profundity and then to trenchant music that both riles and soothes your emotions. Of course, the Rachmaninov arrangement of Rimsky-Korsakov's Flight of the Bumblebee is thrown in for another minute's worth of music here, and that light colorful piece is also quite different from everything else on the disc.
Djangirov's Bach is spirited and contrapuntally imaginative. Frankly, I was surprised that his sense for Bach seemed so innately fluent and natural. I made a comparison with Murray Perahia's Partita #2 on Sony (also performed on a modern piano). Where Perahia uses a fair amount of legato, Djangirov uses relatively little pedal, sounding at times almost like Glenn Gould; and where Perahia often sounds relaxed in his quest to plumb for the wealth of Bachian subtlety, Djangirov is driven, almost headlong, but always tasteful. Perahia would be tough to beat in this repertory, but Djangirov compares quite favorably and sounds very much at home in Bach's music. He should record more Bach.
Djangirov is nearly as successful in the Brahms Op. 76 pieces: here he is mostly effective but a bit less consistent. His Capriccio in F-sharp minor is phrased nicely and played with considerable feeling and intelligence, but the ensuing B minor Capriccio, while charming in its lightness and wit, is a little stiff in execution. The A-flat Intermezzo is dreamy and light, but again there is a hint of stiffness in the music's gait. The B Flat Intermezzo is imaginatively phrased and one of the better performances on the disc, but the C-sharp minor Capriccio that follows is rushed in places and less compelling than his most of his other Brahms here. The remaining three pieces are generally well played, although the Intermezzo in A minor is perhaps a bit cold in its deliberate pacing, but still a strong performance owing to its subtly probing manner and haunting atmosphere. Kovacevich (Philips 4757160), Biret (Naxos 8.550353) and others have offered fine performances of these pieces, but Djangirov once again compares favorably with the competition.
While Djangirov's Bach is generally spirited and insightful and his Brahms mostly effective, his Prokofiev often veers toward the eccentric. In the opening Djangirov makes a number of tempo shifts: the introductory theme is presented with the right sense of dynamism, but the pounding rhythmic chords that soon follow are played more quickly, and afterwards the pianist pulls back on the tempo. In the development section there are similar tempo shifts, as well as several hesitations where the music seems almost to stop for an instant. The second movement's main theme is beautifully phrased and the tense music that follows, even with a few risky tempo shifts, builds to a powerful and effective climax. Djangirov's finale is quite thrilling, though some of the balances are a little awkward and can favor the bass. Having written much that would seem negative about his Prokofiev, I find his account of the Seventh a rewarding performance still, not least because his quirky manner always seems to work to one degree or another, and he makes you look at the piece in a different light. Certainly the second movement has rarely sounded so powerful in its latter half and the finale so hellbent on crushing everything in sight. Truly, Djangirov lets you know why it is a War Sonata. There are, of course, many great versions of this sonata by the likes of Glemser (Naxos 8.553021), Boris Berman (Chandos CHAN9637), Anna Vinnitskaya (Naïve/Ambroisie AM177), Grigori Sokolov (Medici Arts DVD 3073888) and others, but this one by Djangirov is always interesting, if not at the level of these performances.
The Rimsky-Korsakov/Rachmaninov Flight of the Bumblebee gets a splendid performance to close out this disc. The sound reproduction is excellent in all the works and despite the reservations noted above, I would say this is a generally rewarding disc, especially if you are open to a more freewheeling approach to the Prokofiev Seventh. An FYI: there is a performance of Djangirov playing the finale to the Prokofiev Seventh on YouTube. You might want to sample it to get an idea of his style in the work.
Copyright © 2013, Robert Cummings