CD Review
Russian Piano Concertos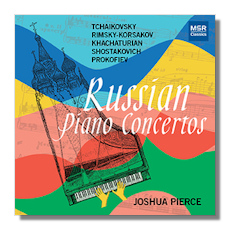 Joshua Pierce, piano
*RTV Symphony Orchestra of Slovenia/Paul Freeman
**Slovak National Symphony Orchestra/Kirk Trevor
***Berlin Radio Symphony Orchestra/Paul Freeman
MSR Classics MS1464 2CDs 60:17 + 65:51
Most of these performances were made from 1988 to 1991 in various Eastern European locales. The exception is the Rimsky-Korsakov concerto, which was recorded in 2010 at the Slovak Radio Concert Hall. Way back in 1998 I reviewed three of these efforts (all the concertos on the second disc), when they were issued on Phoenix 117. MSR's remastering is excellent, offering much better sound now. To sum up from that earlier review and to give my current impressions, let me say that I find Pierce's accounts of the Khachaturian Piano Concerto, Prokofiev First and Shostakovich Second to be slightly flawed efforts, worthy of attention still because of their many strong points. In general, Pierce plays with a lot of muscle and power, but can come across as a bit stiff at times. His phrasing and accents can seem a little eccentric as well, though overall his interpretations more often than not strike you as imaginative and bold, often with insights that others lack. I like his Khachaturian a little better now than I did in 1998, finding his individuality less eccentric and actually quite compelling most of the time.
On the first disc Pierce's Tchaikovsky First is relatively straightforward in comparison with his other performances here. It's definitely a strong effort, well phrased and interpretively sensitive to Tchaikovsky's tuneful and brilliant score, though it sounds a little stiff in places: after the famous introductory episode in the first movement, for instance, Pierce launches into the joyful main theme with a near evenness in his accents, stripping away some of the playful and jaunty character of the music. In the finale you notice the same thing in a few instances, but here the drama and sweep of the music emerge with plenty of spirit. Under the knowing hand of the late Paul Freeman (1936-2015) the RTV Symphony Orchestra performs reasonably well here and in the Third, as well as in the Prokofiev and Shostakovich concertos, but good as the players are, they do not play at world class levels. Overall, this is a fine Tchaikovsky First, but the plentiful competition from Cliburn, Richter, Argerich (with Dutoit and Kondrashin) and many others, is overwhelming. Pierce's account of the Third is a bit more compelling, an interpretation brimming with spirit and color. This is a concerto that has always needed more recordings, overshadowed as it's been by the ever-popular First and even by the once-neglected Second.
The Rimsky-Korsakov C-sharp minor Concerto is a most valuable item here. To tell you the truth, I'm not crazy about the work though, but it is a reasonably well-crafted score that has also largely been neglected. Richter recorded it impressively in 1950 with Kondrashin, yielding a performance which, not surprisingly, featured pretty rough sound. The concerto has since had a few performances on record from the likes of Geoffrey Tozer, Malcolm Binns and barely a handful of others. Here, Pierce seems fully at home with Rimsky's sometimes odd keyboard writing and ends up making an excellent case for this concerto. I actually favor his slightly faster tempos over Richter's generally more moderate ones. This is not a major work, but those who like piano concertos in a rich Romantic vein will find it strongly to their liking. The Slovak National SO plays well under the direction of Kirk Trevor.
The sound reproduction, as suggested earlier, is quite fine throughout the disc. Excellent album notes by the venerable composer/writer Eric Salzman round out this worthwhile compilation of Russian concertos by MSR.
Copyright © 2016, Robert Cummings