CD Review
The Time Traveller and His Muse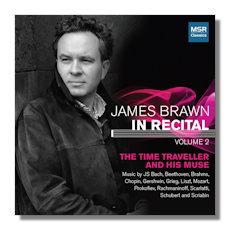 In Recital - Volume 2
Sonata in E Major, K. 380
Sonata in C Major "La Caccia", K. 159
The Well-Tempered Clavier, Book I:
Prelude in C Major, BWV 846
Prelude in C minor, BWV 847
Prelude in D Major, BWV 850
Prelude in E Flat minor, BWV 853
Prelude in E Major, BWV 854
Moment Musicale #3 in F minor, Op. 94 (D. 780)
Impromptu #3 in G Flat Major, Op. 90 (D. 899)
Prelude in E minor, Op. 28 #4
Étude in C minor "Ocean", Op. 25 #12
Étude in E Major "La Tristesse", Op. 10 #3
Étude in A Flat Major "Aeolian Harp", Op. 25 #1
Étude in G Flat Major "Black Keys", Op. 10 #5
Prelude in D Flat Major "Raindrop", Op. 28 #15
Prelude in C Sharp minor, Op. 45
Rondo" alla Turca" from Sonata #11 in A major, K. 331
Fantasia in D minor, K. 397
Ludwig van Beethoven: Bagatelle "Für Elise" in A minor, WoO. 59
Franz Liszt: Consolation #3 in D Flat Major, S. 172
Waltz in A Flat Major, Op. 39 #15
Intermezzo in A Major, Op. 118 #2
Edvard Grieg: Arietta in E Flat Major, Op. 12 #1
Alexander Scriabin: Étude in C Sharp minor, Op. 2 #1
Prelude in C Sharp minor, Op. 3 #2
Prelude in G Sharp minor, Op. 32 #12
Prelude in B minor, Op. 32 #10
Prelude in D Major, Op. 23 #4
Prelude in G Major, Op. 32 #5
Serge Prokofieff: Toccata in D minor, Op. 11
George Gershwin: I Got Rhythm
James Brawn, piano
MSR Classics MS1502 2CDs 53:07; 53:48
This year I have written two reviews on James Brawn's ongoing cycle of the Beethoven sonatas: the first covered volumes 1-3 (MSR MS1465) and the second, volume 4 (MSR MS1468). All four volumes have been thoroughly convincing, Brawn elevating himself into an elite class of Beethoven piano sonata interpreters. Consensus among critics across the globe would seem to concur. This new issue is Volume 2 of James Brawn in Recital. I did not cover the first volume but can imagine it was likely an outstanding issue.
Here Brawn selects at least one work from just about every major composer strongly associated with the piano, from Bach and Scarlatti to Rachmaninov and Prokofiev, taking in along the way Mozart, Beethoven, Schubert, Chopin, Liszt, Brahms, Grieg and Scriabin. He even throws in the brief I Got Rhythm by Gershwin. I suppose only Schumann among major keyboard figures is missing here.
Everything here is at least well played and much is superbly played. Brawn is obviously a pianist whose tastes are broad and whose fingers follow his every predilection. His Scarlatti E major Sonata, K. 380 – one of the composer's most popular works – is vivacious and elegant, with subtly wrought dynamics that are perhaps meatier than usual but still always sensitive to the sunny character of the music. The Bach selections show are variety of moods: the dreamy C major (BWV 846), the anxious C minor, the busy and bright D major (BWV 850), the ponderous and profound E Flat minor (BWV 853), and finally the elegant and chipper E major (BWV 854). Brawn uses a fair amount of legato and plays with moderate to brisk tempos, capturing the essence of each piece with a deft sense for Bach's complex expressive manner. This pianist would probably deliver a very persuasive set of both books of the Well-Tempered Clavier.
Brawn's Rondo alla Turca is sprightly and never sounds harried, as with so many pianists bent on breathless tempos and slapstick humor. Für Elise, a repetitious piece that is easy to tire of, has a freshness in Brawn's relaxed and dreamy phrasing of the main theme and in his animated treatment of the alternate material. Brawn's Schubert is excellent: the third Musical Moment has an infectious bounce to its playful character and the ensuing Impromptu #3 is richly Romantic, exuding that passionate kind of outpouring so typical of Schubert in certain of his best songs and piano works.
Brawn gives the listener a heavy dose of Chopin, which is all to the good for most of us. He delivers a very dark account of the forlorn E minor Prelude (#4, Op. 28), effectively conveying a sense of abject sadness, if not resignation. The C minor (#12, Op. 25) is again rather dark, but it also has an ominous sense here, too. Brawn offers a lovely account of the E major (#3, Op. 10), and his A Flat major (#1, Op. 25) is appropriately bright and fluid, while the famous 'Black Keys' Etude is delightful and bubbly, though it might have been a bit more energetic, even hyper. The remaining two Chopin Preludes are also well played: I particularly liked his account of the 'Raindrop', notably the dark and deliberately paced middle section.
Brawn's rendition of the Liszt Consolation #3 is gentle and finely imagined, if a little laid back. The Brahms Waltz in A Flat major (Op. 39, #15) is also a bit tame, but does divulge an elegance and stately character that is quite appropriate. Brawn gives the lovely A major Intermezzo (Op. 118, #2) a grandeur and emotional warmth that make this quite a special account. The Grieg Arietta in E Flat major, Op. 12, #1, is deliciously wistful, a choice nugget to enjoy. The Scriabin C Sharp minor Etude, Op. 2, #1, is sensitively played but strikes one as almost pensive: it might have benefitted from a stormier approach. Brawn's account of the Rachmaninov C Sharp minor Prelude is one of the better renditions you're likely to encounter: the tempo doesn't drag (a common problem in so many performances), and Brawn, with his deft sense for dynamics and rubato, infuses freshness into this overly familiar music.
As I listened to the remaining Rachmaninov pieces on the second disc here, I realized Brawn played every one of them convincingly. Try the B minor, Op. 32, #10, and notice how he deftly builds on Rachmaninov's gloom to culminate in a sort of angry, rather ambivalent grandeur. What may be his best Rachmaninov performance on the disc, however, is his beautiful account of the D major Prelude, Op. 23, #4. Brawn is one of the few pianists to make all the complex elements in this piece fit together: the second time the main theme is played, for instance, notice those flowing notes in the right hand and how clearly yet subtly Brawn weaves them into the music's fabric. In most performances that I've heard, pianists tend to suppress these notes, thus ignoring a crucial secondary line. Brawn goes onto the deliver a powerful climax and lovely conclusion to this fine Rachmaninov piece. His Prokofiev Toccata is another splendid performance: Brawn wisely turns away from a percussive approach, delivering a leaner, crisper sound and infusing the music with plenty of energy and drive. His rendition may not quite reach the level of excitement attained by Byron Janis, Horowitz or Argerich, but it's quite compelling still. I Got Rhythm is colorful, lively, and utterly joyful, showing the pianist's fine if slightly civilized grasp of Gershwin's jazzy style.
All in all, this must be counted as another great success for James Brawn. MSR provides vivid, well balanced sound, and the album notes are informative. Highly recommended.
Copyright © 2015, Robert Cummings