The Vienna Symphony on the Rhone and Saone Rivers
A Musical Cruise
17-24 September, 2011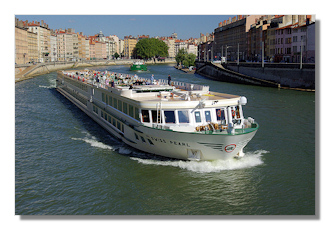 I have just experienced a most unusual musical adventure, a week on the Rhone and Saone Rivers aboard the Swiss Pearl, a river cruise ship sailing in convoy with three other river ships, passing some of the most spectacular landscapes of the Midi – the salt marshes of the wild Camargue (Rhone Delta), parts of Provence and Burgundy, Renaissance monuments, Gothic cathedrals and lavender scented fields alternating with the famous vineyards of the Rhone valley. And, if this were not enough, some 65 musicians from the Vienna Symphony were embedded on the four river boats eager to play glorious music.
The major events were three on-shore concerts. The first of these on 18 September was in L'Opera Theatre d'Avignon et des Pays de Vaucluse in Avignon. Today Avignon is a small town known mainly for its famous Gothic Palais des Papes, the residence, palace and church of medieval times. But, in the 14th century it was from here that seven popes ruled quite independently of Rome.
The orchestra was conducted by Bertrand de Billy, the famous French conductor of the Vienna Radio Symphony Orchestra (VRSO), a native of Paris, but very active in Vienna where his State Opera appearances have included Werther, Manon, Faust and Die Fledermaus. In 2011 de Billy conducted the first French Cinderella in 112 years, Laurent Pelly's stylish production of Cendrillon at Covent Garden with Joyce Di Donato and Louisa Miller with Krassimire Stoyanova at the Bavarian State Opera.
The program included J.S. Bach's Orchestral Suite #2 in B-minor, Mozart's Violin Concerto #7 in D-major, KV 271a, the last violin concerto the great composer left behind rediscovered only at the beginning of the 20th century with soloist Florian Zwiauer and Franz Schubert's Symphony #8 D. 759, The Unfinished.
On 21 September the second on-shore concert was played by eight members of the Chamber Ensemble from the Vienna Symphony Orchestra, conducted by the Japanese-born guest conductor of the Vienna Chamber Orchestra, Joji Hattori, who made his Vienna State Opera debut in 2009 with The Magic Flute. The program included Mozart's Quintet for Clarinet and Strings in A-major, K.581 (clarinet Reinhard Wieser) and Beethoven's Septet in E Flat Major, Op. 20). The concert took place in Salle Moliere, Lyon, named after the legendary French writer, which has exceptional acoustics and is, undoubtedly, one of France's most enchanting theatres deep in Vieux Lyon.
The third on-shore concert again under the baton of Bertrand de Billy took place on 23 September in the Auditorium Maurice Ravel, Lyon. The building is the first concert venue in France to be built not only without columns (or pillars) but using pre-stressed concrete as its main material. With its seating capacity of 2150, it allows a perfect view of the magnificent Cavaille-Call organ from the Palais de Chaillot.
The program included Mozart's Overture to the Magic Flute; Haydn's Cello Concerto, Hob.VII, #2 in D-major (with the brilliant young Austrian cellist, Sebastion Bru) and Beethoven's Symphony #7 Op. 92 in A-major.
On September 20 the Doremis Quartet with musicians from the Vienna Symphony Orchestra played chamber music on board the ship. The program consisted of Pergolesi's Trio Sonate #3 in G-major; Mozart's Divertimento in D-major KV 136; Igudisman's Bilder einer Einstellung and Bizet/F.Borne's Fantasie brillante ueber die Oper Carmen.
On September 22 the Doremis Quartet played another ship concert. We heard Mozart's Flute Quartet in C-major KV 285b; Schubert's Flute Quartet in G-minor D 408; S.Mercadante's Flute Quartet in E-major Hob.II D10 and J.Strauss/S.Guertler's Overture to Die Fledermaus.
In addition to the five concerts a rehearsal was offered where the audience could better observe the orchestra and conductor working informally. A Meet-and-Greet was organized to encourage guests to mingle with orchestra members.
Some were drawn to this unique adventure because they wished to see the most untamed and dramatic scenery in France, the Camargue, the wild Rhone Delta, where indigenous pink flamingos make their home. Others wanted to experience the remarkable light of the Midi which drew Van Gogh and his followers to settle in Arles among the Roman ruins. September is a lovely month to see these natural wonders when the earth is covered with great Burgundy grapes. But what drew all was the presence of the famous Vienna Symphony Orchestra. Founded in 1900, the orchestra has been led by such eminent conductors as Bruno Walter, Richard Strauss, William Furtwaengler and Herbert von Karajan. With this glorious combination of natural beauty, great music and gourmet meals, this musical journey was not just for lovers of music but for all those who love life.
In July (6-13th) 2012 there will be another extradordinary cruise around the Eastern Mediterranean with the incomparable Vienna Philharmonic Orchestra and soloists Angelika Kirchenschlager (mezzo) and Rudolph Buchbinder (piano). For further information please contact MS6 Reisegesellschaft MbH, Miessthalerstrasse 14, 1920 Klagenfurt, Austria. Telephone 43-463-57920 (www.ms6.at).
Copyright © 2011, Elizabeth Schotten Merklinger.