CD Review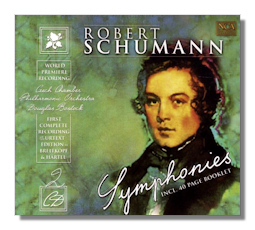 The Symphonies
Symphony #1 "Spring", Op. 28
Symphony #2, Op. 61
Symphony #3 "Rhenish", Op. 97
Symphony #4, Op. 120
Scherzo in G minor
Czech Chamber Philharmonic Orchestra/Douglas Bostock
New Classical Adventures 60125-315 2CDs 128m DDD
One of Rembrandt's most famous paintings is "The Night Watch," although a modern cleaning has revealed that the painting actually depicts a daytime scene. That can happen with music too. This is billed as the world première recording of the Breitkopf & Härtel "Urtext Edition" of the four Schumann symphonies, and those familiar with these works might well be surprised by how luminous they sound here. Schumann's orchestration often has been criticized as awkward or ineffective, and men such as Felix von Weingartner and Gustav Mahler "retouched" it in the years surrounding the dawn of the twentieth century. Other elements of the score were tinkered with as well – dynamics, tempo, and so on. All that spurious retouching has been undone here. Also, Schumann's symphonies usually are performed by today's full-size symphony orchestras, which can be twice as large as the orchestras that performed them in the 1840s and 1850s. The use of a chamber orchestra makes sense, then. In other words, if these performances don't sound quite like anyone else's, there are several legitimate reasons why.
By now, you have realized that Bostock is not the conductor to turn to if you are looking for heaven-storming Schumann. With the more traditional sets by Leonard Bernstein and George Szell (for example) still available, it would be perverse of me to prefer Bostock to either of them. Still, Bostock's set would be a very desirable second recording, if you don't already have David Zinman's versions with the Zürich Tonhalle Orchestra, which are cut from similar cloth. (Some sets, such as Chailly's for Decca and Ceccato's for BIS, go in the completely opposite direction and proudly put Mahler's name next to Schumann's.)
On the other hand, if you would like to hear Schumann played with a freshness that suggests Mendelssohn – who influenced Schumann, after all – then Bostock has much to offer. Predictably, the outer movements are less impressive than the slow movements, which are played with a beauty and tonal refinement here that sometimes borders on the angelic. The Fourth Symphony's Romanze comes off particularly well. The orchestral details which often are obscured on other recordings emerge with clarity here – mostly, I think, because the music is being played by an appropriate number of instruments. The playing itself is not remarkable, but it in no way lets the listener (or Schumann) down. The same goes for Bostock's conducting: once you get past the concept, nothing all that remarkable happens, but one never feels let down by it, either.
Bostock includes the Scherzo in G minor, which is familiar today as a piano piece – the 13th of Schumann's Op. 99 Bunte Blätter. This movement, part of the so-called "Zwickau" Symphony, predates even the "Spring" Symphony, and was not performed in its original (that is to say, orchestral) form until 1995. Schumann's complete orchestration does not exist, and this recording uses a "reconstruction" based on the composer's surviving short score.
This release comes with a lengthy essay, in German and English, by Joachim Draheim, the man who prepared the critical "Urtext" edition of these works published by Breitkopf and Härtel between 1993 and 2001. This recording was made the following year, and originally was released on the Classico label. Its reappearance here is very welcome.
Copyright © 2009, Ray Tuttle