CD Review
Mandy Patinkin Sings Sondheim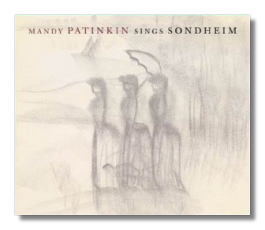 Mandy Patinkin, vocals
Paul Ford, piano
Nonesuch 79690-2 DDD 2CDs: 50:21, 31:21
In 1984, Mandy Patinkin became French painter George Seurat in Stephen Sondheim's new musical Sunday in the Park with George. Since then, Patinkin has remained a prominent exponent of Sondheim's songs, even though his portrayal of Seurat was more the exception than the rule – Sondheim roles have not been prominent among his stage and screen credits. Nevertheless, in his one-man shows and on his CDs, Patinkin rarely forgets to include some Sondheim, and so it was only a matter of time until Patinkin and collaborator Paul Ford put together an all-Sondheim show.
Celebrating Sondheim opened at Philadelphia's Prince Music Theater in February 2002. This is a live recording of the show; although it is not clear whether this is one actual performance or a compilation of several. The show begins and ends with material from Sunday in the Park with George, and in between, there are dozens of songs from most of Sondheim's shows. (Assassins and Passion are absent, probably because their songs are so dependent on context.) There is no between-song patter, and few opportunities for applause; as in the past, Patinkin runs the songs into each other, creating a stream of consciousness effect that sometimes borders on the neurotic. Patinkin seems eager to revive the tradition, common in nineteenth-century opera, of the "mad scene."
Patinkin is nothing if not ambitious and self-confident, rarely taking the easy way out. He sings the hits ("Now While I'm Around," "Losing My Mind," "Send in the Clowns," and so on), but also the more unfamiliar songs – including some that were deleted ("Uptown, Downtown" and "All Things Bright and Beautiful" from Follies) to expand his canvas. He also tackles "gender inappropriate" songs, including "Broadway Baby" and "Liaisons." (I'd like to see Patinkin with "ladies in attendance,/Fire-opal pendants…"!) Patinkin is a chameleon, and his rapidly changing colors dazzle the listener, never letting him forget that he is watching a show, not real life.
Patinkin's tics and idiosyncrasies are in full flower here. He has more ham in him than North Carolina, and when he belts (the climax of "Broadway Baby," for example), it sounds like parody… Broadway as seen through the eyes of Homer Simpson. At the other extreme, he murmurs and whispers conspiratorially. At times, he goes right off the deep end: the "doo doo doo doos" in "You Could Drive a Person Crazy" are turned into the frightening rants of a patient in a mental hospital. It also needs to be mentioned that Patinkin's voice has deteriorated greatly over the past decade. Sustained notes, particularly those in his lower register, wobble disconcertingly. He still has a great "character voice," but his attempts to sound romantic ("Send in the Clowns," for example) rarely succeed, given the disrepair of his vocal apparatus.
Paul Ford plays straight man to Patinkin's manic jester with aplomb and dignity. He is the essential anchor of Celebrating Sondheim, and there is nothing about his pianism not to admire.
A negative review? Not at all. I love Patinkin's performing style, but it would be useless to pretend that he isn't a highly spiced dish, not to everyone's taste. There are more recommendable Sondheim reviews (Side by Side by Sondheim is my favorite), but few as confrontational as Celebrating Sondheim.
Copyright © 2003, Raymond Tuttle