Blu-ray Audio Review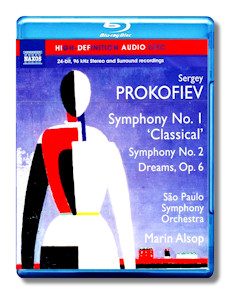 Symphony #1 in D Major, Op. 25
Symphony #2 in D minor, Op. 40
Symphonic Poem "Dreams", Op. 6
São Paulo Symphony Orchestra/Marin Alsop
Naxos Blu-ray Audio NBD0044 57m (audio only) LPCM Stereo DTS HD Master Audio
This is the third issue in Alsop's Prokofiev Symphony cycle, and it may just be the most impressive installment thus far. I reviewed the two previous discs here, #5 (Naxos 8.573029) coupled with The Year 1941, and #4 (Naxos Blu-ray Audio NBD0038), paired with The Prodigal Son ballet. This new disc contains Prokofiev's two earliest symphonies as well as an early and rarely performed symphonic poem.
Although this review is concerned with the Blu-ray version, the performances are also available on CD. The disc opens with a spirited, highly detailed and well played version of the ever-popular Classical Symphony. If you go by the stopwatch the first movement is moderately paced, but it sounds quite lively and comes across with all the joy and wit of any performance you're likely to encounter. In fact, all of Alsop's tempo choices here work fine: the second and fourth movements are perhaps very slightly on the brisk side, while the Gavotte, with deftly employed rubato, is moderately paced. Much detail emerges throughout the work, not least because Naxos has provided Alsop and her São Paulo players with very vivid sound. In the end, one must judge this as one of the finest versions of the Classical Symphony, at least in recent times.
Dreams comes next on the disc. It was written by a youthful and still evolving Prokofiev, and thus doesn't sound typical of his style, even from just a year or two later. This short work (9:26) divulges the influence of Scriabin in its obsessive qualities and mysterious character, though much of the orchestration is recognizable as Prokofiev's. Previous recordings of this work by Järvi and Kuchar are not quite as good as this effort by Alsop. Though the music is less dreamy in her hands, it is more convincing in its somewhat driven character, and ultimately more dramatic as well. The final climax is quite powerful, quite arresting, and the playing by the orchestra is splendid.
What is most compelling on this Blu-ray audio disc, however, is Alsop's Prokofiev Second Symphony. My previous favorite in this work was the Kuchar, also on Naxos, though there are excellent versions to be had from Gergiev (Decca), Rostropovich (Erato & Warner), Ozawa (DG), Grin (Ondine), Leinsdorf, (Sony & Testament), Weller (Decca) and Kitayenko (Phoenix Edition). Alsop employs very brisk tempos, like Leinsdorf, but offers more detail and, in the first movement, more of an "iron and steel" character (to quote the composer about this work). The theme and variations second movement is as well conceived and executed as any version I've ever encountered. In fact, the big climax in the six variation comes across with more power and more sheer crushing energy than I've heard in any other version of the more than dozen that I have. Alsop actually is close to Leinsdorf in her conception of the work, but where Leinsdorf scales things down a bit, Alsop unleashes all the power and energy you could want, and her interpretations of the slower variations are brilliant: try the hypnotic #4 or the dark and powerful Sixth. In the end, one has to declare her Prokofiev Second simply the best version on record.
As I suggested the sound reproduction is excellent, perhaps the best in this series so far, and the São Paulo Symphony plays at world class level throughout. In sum, this is an indispensable disc for the Prokofiev enthusiast and a highly attractive recording for most listeners with an interest in early 20th century orchestral music. Highest recommendations!
Copyright © 2014, Robert Cummings