Related Links
Recommended Links

Site News
Blu-ray Audio Review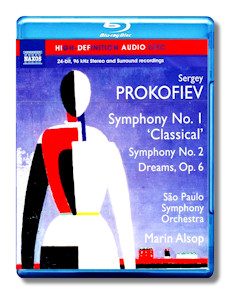 Symphony #1 in D Major, Op. 25
Symphony #2 in D minor, Op. 40
Symphonic Poem "Dreams", Op. 6
São Paulo Symphony Orchestra/Marin Alsop
Naxos Blu-ray Audio NBD0044 57m LPCM Stereo DTS HD Master Audio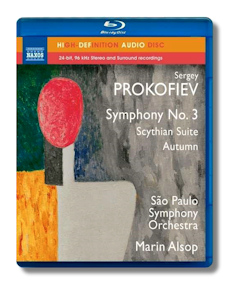 Symphony #3 in C minor, Op. 44
Scythian Suite, Op. 20
Autumnal Sketch, Op. 8
São Paulo Symphony Orchestra/Marin Alsop
Naxos Blu-ray Audio NBD0047 61:25 LPCM Stereo DTS-HD Master Audio
You might be forgiven for not having noticed that there is a new audio format in town. The record industry, despite its general state of crisis, appears to be doing a worse job of promoting Blu-ray Audio than they did with Super Audio CD (SACD). This is a shame, because Blu-ray Audio (AKA High Fidelity Pure Audio) really does seem to be a step forward. In terms of sampling and bit-rates, Blu-ray Audio offers pretty much the same degree of sound quality as the studio masters, and the discs typically offer both a 2-channel and a multi-channel option. Equally importantly from a marketing perspective, the discs can be played by any Blu-ray player and so, unlike SACDs, most potential purchasers will not need to make an upfront investment in equipment.
Blu-ray Audio is being developed and promoted by a consortium of music groups led by Universal. Different groups are taking different approaches. Universal seems to be adopting the strategy of re-releasing old stalwarts in the new format (Getz-Gilberto, Quadrophenia, Exile on Main Street – that sort of thing). I'm not in the marketing business, but it doesn't seem smart to me to try to get people to buy classic albums that they probably already have in vinyl, cassette, CD, MP3, SACD, and who knows what else. In any event, it's certainly not a very interesting way to use a new audio format.
Naxos has a much more interesting strategy. They are using Blu-ray Audio only for new recordings at what one might term the less travelled end of the repertoire. So, for example, one of their early releases in the new format was Gliere's Third Symphony recorded by JoAnn Falletta and the Buffalo Philharmonic – a rarely heard piece rather well suited to a high fidelity format. The Prokofiev symphonies are not exactly at the Gliere levels of (in-) visibility, but they are not Brahms symphonies either.
These three Prokofiev symphonies are displayed to very good effect in these fine performances from Marin Alsop and the Sao Paolo Symphony Orchestra (where Alsop has been Music Director since 2013 – a position that she holds in parallel with her role as Music Director of the Baltimore Symphony). The second and third symphonies in particular have a wide dynamic range that comes across very well in the 24-bit format. The acoustic texture of the winds and percussion is tellingly portrayed. Prokofiev's richly colored sound world is well played and well represented. I listened to these discs in 2-channel LPCM. They also offer DTS Master Audio 5.1 surround sound. Since the pricing is not significantly higher than a regular CD (although more than a typical Naxos CD) it is hard to find a reason not to recommend these two discs.
Copyright © 2015, José Luis Bermúdez