Blu-ray Review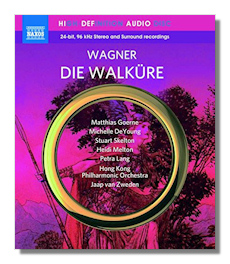 Die Walküre
Siegmund - Stuart Skelton
Sieglinde - Heidi Melton
Hunding - Falk Struckmann
Wotan - Matthias Goerne
Brünnhilde - Petra Lang
Fricka - Michelle DeYoung, Mezzo-soprano
Waltraute - Sarah Castle
Gerhilde - Karen Foster
Helmwige - Katherine Broderick
Schwertleite - Anna Burford, Mezzo-soprano
Ortlinde - Elaine McKrill
Siegrune - Aurhelia Varak
Grimgerde - Okka von der Damerau
Roßweiße - Laura Nykänen
Hong Kong Philharmonic Orchestra/Jaap van Zweden
Recorded live at the Hong Kong Cultural Centre Concert Hall - January 21 & 23, 2016
Naxos Blu-ray NBD0051 3:56:18 Pure Audio PCM Stereo DTS-HD Master Audio
This is an excellent performance of Die Walküre in virtually every respect. As the reader may have noticed in the heading, this is an audio-only presentation of this Wagner masterwork. But of course, that's hardly an encumbrance, as it is a concert performance of the opera, not a staged one. Unfortunately, I missed the first release in this project of the four Ring operas by Jaap van Zweden, a conductor who clearly has a total understanding of Wagner, if I can judge from this lone entry. Van Zweden draws splendid playing from the Hong Kong Philharmonic Orchestra, deftly employing all sorts of nuances in dynamics and accents and obtaining seemingly perfect instrumental balances, all the while choosing judicious and never wayward tempos.
Speaking of the latter, van Zweden's tempos tend to be moderate and always appropriate to the character of the music. In line with this sort of centrist tendency, he also seems to be eclectic in the way he views the score, not carving out a clearly distinctive style of interpretation the way Knappertsbusch or Fürtwangler or Karajan or many other conductors would. Indeed, but van Zweden consistently captures the ebb and flow of the drama and all its emotions, demonstrating that he has all the stuff of being an outstanding conductor of the operas of Wagner.
Van Zweden is supported by an excellent cast too, the two leads offering dazzling performances that can challenge those of some of the finest singers ever to take on the roles. Stuart Skelton as Siegmund possesses a hearty, versatile heldentenor voice and Heidi Melton as Sieglinde exhibits a powerful sterling soprano voice of rare beauty. In the Act I Scene II number, Ein Schwert verhieß mir der Vater, Skelton shows his versatility, conveying passion and consolation in gilded, robust tones, and in Act II Scene 5 he delivers a most sublime and convincing Zauberfest bezähmt ein Schlaf. In the Act I Scene III numbers Schläfst du, Gast? and Du bist der Lenz Melton displays a range of emotions in truly gorgeous and committed singing, though I suppose nitpickers may find her tight vibrato a problem. I don't – in fact, her well controlled vibrato (I'll call it that instead of "tight") is more of an asset to my ears than a liability. On the whole, the first act singing featuring these two leads in several consecutive numbers is consistently outstanding – and that's not to suggest that they let up in the remainder of the opera!
One critic found fault with the singing of Petra Lang, however. I must scratch my head at that view because I can't find any serious shortcomings in her performance, and in fact, I would say she is one of the stronger members of the cast. Her singing in So jung schön erschimmerst du mir, with Skelton, is thoroughly compelling; and hear her colorful and electric Hojotoho! Hojotoho! glissandos just after the Prelude to Act II. True, in a few places she seems to be slightly taxed, but these instances hardly detract from the overall performance as she never fails to deliver the goods. Matthias Goerne as Wotan is also very convincing, as are Falk Struckmann as Hunding and Michelle DeYoung as Fricka. The rest of the cast is quite fine too.
The Naxos sound reproduction is clear and well balanced, though I did find a slight problem at certain moments on the disc with the intrusion of an occasional popping sound, not unlike that of a turntable's needle playing over a scratch on an old LP. There are brief album notes and a highly detailed plot summary by the indefatigable Keith Anderson. No libretto is provided, but you can download one from the web with little trouble.
I have reviewed four other recordings of Die Walküre, some as part of complete Ring cycles. All are on video and they are the
I would say that either Barenboim effort would be hard to beat, but this new offering from Japp van Zweden and company is very good and for those not wanting a video production this might be considered a contender for first choice, at least among more recent recordings. It is that fine a performance. I should mention that Naxos has also made this available on CD, but on four discs and at a higher price. Solti of course is an imposing presence, but his sound reproduction – good as it was in its day – is rather dated now. Thus, if you're looking for a new Die Walküre, this one from Naxos is certainly well worth your attention.
Copyright © 2017, Robert Cummings