CD Review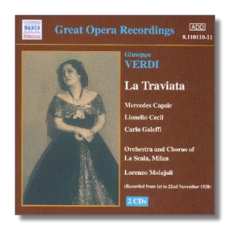 La Traviata
Mercedes Capsir (Violetta)
Lionello Cecil (Alfredo Germont)
Carlo Galeffi (Giorgio Germont)
Ida Conti (Flora/Annina)
Giuseppe Nessi (Gastone)
Salvatore Baccaloni (Doctor)
Aristide Baracchi (Baron Douphol)
Orchestra & Chorus of La Scala, Milan/Lorenzo Molajoli
Naxos Historical 8.110110-11 ADD monaural 2CDs: 59:04, 75:26
The Columbia label recorded many of the most popular Italian operas with La Scala forces during the 1920s and 1930s. Competition came from RCA Victor and conductor Carlo Sabajno; record critics in the 1930s took sides on whether they preferred the Victor Sabajnos or the Columbia Molajolis, as repertoire often overlapped. These were among the first complete operatic recordings, and what a stack of shellac they were. This La Traviata was issued on 15 discs in two volumes. Listeners at home needed to change sides 29 times, and they needed to be in good physical shape even to carry the records home from the shop. And woe to the family member who broke a precious disc, even by accident! I love nostalgia, but all things considered, I'll take the CDs.
This recording was made in November 1928. Its centerpiece is Barcelona-born soprano Mercedes Capsir, who also recorded an excellent complete Rigoletto during the 78-rpm era with Riccardo Stracciari in the title role. Although she has her moments of shrillness (an effect due at least in part to the original discs), she is an appealing, expert Violetta. The coloratura demands of Act One are no problem for her, and while she can't plumb the dramatic depths in the later acts the way that Maria Callas could (for example), she is hardly unconvincing, both vocally and dramatic. Her Act Two confrontation with Alfredo, culminating in her collapse at Flora's party, is genuinely moving, and her reading of Giorgio Germont's letter at the start of "Teneste la promessa" is heartbreaking. The other Violetta on disc most like hers is Rosanna Carteri's, as conducted by Pierre Monteux (not on CD, apparently). However, if you want to become a Capsir fan, try the seven selections that Naxos and reissue producer Ward Marston have added at the end of the second CD. Here Capsir shows her coloratura charm off, and how! Recorded between 1926 and 1933, these selections include rarities by Umberto Giordano (two arias from Il Re), The Carnival of Venice, a song by Lehár, and a stunning "Qui la voce" from I Puritani.
Capsir's partner is Lionello Cecil, an Australian who also went by the names Lionel Cecil and Cecil Sherwood. He is an ardent, boyish Alfredo, and one can well understand (if not condone) his rash behavior in Act Two. (The other Cecil recording worth noting is his 1929/30 Madama Butterfly with Margaret Sheridan.) His father is sung by veteran Carlo Galeffi, whose noble singing added class to an Andrea Chénier recorded a few years later (Naxos Historical 8.110066-67). Galeffi, in his mid-40s when this Traviata was recorded, sings like a much younger man, and one might imagine him to be Cecil's brother, not his father, from the evidence presented here! Galeffi always sings with emotion. He is an unusually sympathetic Giorgio, even when he is relentlessly goading Violetta to give up Alfredo. "Di provenza il mar" is beautifully sung. The smaller parts are done with professional polish, and I must mention Salvatore Baccaloni in the little role of Doctor Grenvil, because he would continue on to become a buffo star at the Metropolitan Opera in the 1940s. The mysterious Lorenzo Molajoli brings no special insights to Verdi's score, nor does he do anything that makes one cringe. Some fast tempos probably are by-products of 78-rpm side-lengths. The traditional cuts are taken.
The transfers, as with earlier Naxos Historical reissues, are by the skilled Ward Marston. Using less electronic manipulation than loving care and savvy, he makes these 72-year-old sounds spring out of the speakers. There are one or two side changes that don't have enough "air" between them, however; they feel unnecessarily abrupt.
No libretto is included, but none is needed; this is not the first La Traviata for anyone's collection. Nevertheless, it is not just a speciality item either, and anyone with curiosity about this era of singing - or looking for a fairly unknown coloratura soprano to enjoy - should not hesitate to acquire this pair of inexpensive discs.
Copyright © 2001, Raymond Tuttle