CD Review
Piano Concertos
Idil Biret, piano
Polish National Radio Symphony Orchestra/Antoni Wit
Naxos 8.554088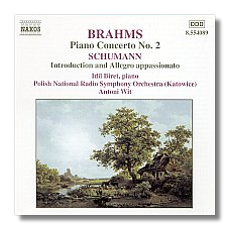 Idil Biret, piano
Polish National Radio Symphony Orchestra/Antoni Wit
Naxos 8.554089
Idil Biret has recorded the complete solo works of Chopin, Rachmaninoff and Brahms, and has been roundly praised for these massive cycles. In general, she has adopted an interpretive persona that favors plumbing the depths for expressive yield rather than remaining on the surface with a straightforward approach to allow the music to speak for itself. Thus, both her Brahms readings are weighty, rich-toned affairs that aim for grandeur and muscle in the later effort and for tragedy and consolation the D minor First.
What is of equal importance here is that the underrated Antoni Wit abets Biret with conducting quite in sympathy with her view. The Polish Orchestra may not be world class but it plays with commitment and spirit throughout. Biret's D minor is one of the best current versions of the work available. The Rubinstein/Reiner on RCA is a classic for its sense of drama and tragedy and for the pianist's ability to deftly shift from the life-and-death issues of the first two movements to the sunnier world of the finale. But Biret yields little to Rubinstein, catching the youthful grimness and Classical language of the concerto with an unerring interpretive sense. For half the cost of the somewhat inflexible Brendel/Abbado on Philips, you get a fiery performance here that is among the finest. Andsnes/Rattle on EMI is also excellent, but costlier, too.
Biret's Brahms Second is another strong entry, again contending for top honors in a very crowded field. Among the better performances of this great concerto have been the Serkin/Szell (Sony Classical), Cliburn/ Reiner (RCA), and Richter/Leinsdorf (RCA). Of course, it's always hard to chose one from such an impressive group, but with Biret you certainly won't go wrong. Again, Wit gets fine support from his Polish players. If comparisons can be made in this company, Biret might be likened to Cliburn but with more grit and guts. Her tempos are slower than his and her tone a bit heftier, but both share an epic view of the work, eschewing the leaner, more driven approach of Richter and others.
The two Schumann works are fine bonuses, both rendered with the same commitment and insight from soloist and orchestra. In the end, one must assess all these performances as quite extraordinary and fully competitive with the best. Sound is good, if a bit boomy in the Brahms First. At Naxos' prices potential buyers can hardly go wrong.
Copyright © 2001, Robert Cummings