Related Links
Recommended Links

Site News
CD Review
Biret's Brahms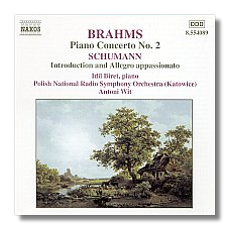 Idil Biret, piano
Polish National Radio Symphony (Katowice)/Antoni Wit
Naxos 8.554089
Idil Biret, a native of Turkey, studied with Cortot and Boulanger, and graduated from the Paris Conservatoire when she was 15. Naxos wisely snatched her up several years ago, and her recordings of Chopin's complete piano music for that label have won just praise. More recently, she recorded a complete Brahms cycle. The Second Piano Concerto was recorded in 1996, but it is only just now being released in the United States.
It is an interesting performance. Biret makes no attempt to hide the work's difficulties, and while it would be wrong to say that her performance is effortful, most pianists aim for a smoother line than Biret's. The result is playing that is violent, ill-tempered, and unsentimental – not the usual soul of Romanticism. The advantage is that no one would call her playing glib, and there is no brilliance for brilliance's sake. Her playing is matched by that of the Polish orchestra, which is truculent and anything but homogenized. The nice thing about Eastern European orchestras, even if they are not of the top rank, is that they have a sound of their own. Rather than a rich, Viennese treatment, the Poles are lean and biting. Like Biret, their musicianship, if not creaky, is certainly cranky. Couple this viewpoint with slow tempi (Wit and Biret take the concerto well over the 50-minute mark), and you get a reading that doesn't sound like anyone else's. I don't think it's a safe recommendation at a bargain price (I'd vote for Bishop-Kovacevich and Davis on Eloquence), but fans of this concerto will want to hear what these fine musicians do with it. The sizeable Schumann bonus displays similar faults and virtues, but not to the same degree: generally, it is a more melting interpretation.
The recording was made in Katowice, and the engineering is more than adequate. The booklet notes are par for the course.
Copyright © 2001, Raymond Tuttle