CD Review
Reza Vali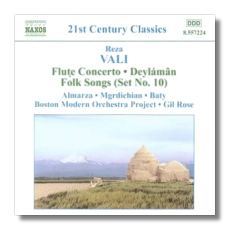 Concerto for Flute and Orchestra
Folk Songs (Suite #10)
Deylámân
Alberto Almarza, flute
George Mgrdichian, bárbát (oud)
Janna Baty, soprano
Boston Modern Orchestra Project/Gil Rose
Naxos 8.557224 DDD 64:27
The next time a crossword puzzle asks you to name a Persian composer, four letters, you will know to answer "Vali." Reza Vali was born in Persia (what we now know as Iran) in 1952. He left for studies in Vienna in 1972, and afterwards he came to the United States, where he has been ever since. Currently, he teaches music at Carnegie Mellon University.
I am very impressed by this CD. By mating Western classical music with the musical traditions of his homeland – both popular and classical – Vali has been the foster-father to a beautiful hybrid, a rara avis. The exotic atmospheres of Persia suffuse this music, which nonetheless retains its classical form and control. The one composer who kept coming to mind as I heard this CD was Khachaturian, but without the agitprop.
The Flute Concerto (1998) was written for and dedicated to the musicians who perform it here. According to the composer, the first movement (Adagio) is based more on Persian classical music, and the second movement (Lento, Molto Allegro) is influenced by his country's folk music. At several points, the soloist sings into his flute as he plays it, a technique that alters the instrument's sound, making it sound more like the ney, the bamboo flute of Persia. Alberto Almarza plays it with excitement and with no audible discomfort or difficulty.
Since 1978, Vali has written several sets of songs based on Persian folk music, or in the Persian folk style. The tenth set, finished in 1992 and recorded here, contains four songs: "Love Song," "Song from Luristan," "Popular Song for Tehran" and a "Lament," designated "In Memoriam Olivier Messiaen." Vali writes gorgeously for the voice, and soprano Janna Baty sings these songs richly, earning special praise for negotiating Vali's florid, melismatic, and always melodic (in the traditional sense) vocal lines.
Written in 1995, Deylámân (pronounced "day-la-MOHN") is a nearly 20-minute orchestral work of almost magical seductiveness. It might be a latter-day Schéhérazade, for all I know. (Because it is so colorful and seemingly narrative in structure, I want to call Deylámân a tone poem, but if there is a story, Vali hasn't divulged it in his excellent booklet notes.) The composer makes brief allusions to the music of several Western classical composers, as well as to the music of Latin America and Africa. What does it all mean? Who knows, but the music seems to rise from and then sink back into an eternally deep pool of Persian history and culture. Again, the flute plays a prominent role, mimicking the ney, and the lute-like bárbát (or "oud") is added to the Western orchestra. As with the Flute Concerto, this work was written for Rose and his Bostonians.
Sumptuously played and recorded, Reza Vali's music is a tremendous treat. This CD will continue to find a place in my changer for months to come, and it probably will be counted among 2004's best new releases.
Copyright © 2004, Raymond Tuttle