CD Review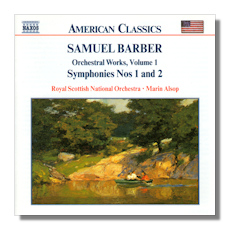 Orchestral Works, Volume 1
Symphony #1
Symphony #2
Overture to The School for Scandal
Essay for Orchestra
Royal Scottish National Orchestra/Marin Alsop
Naxos 8.559024 DDD 69:47
Naxos bills this American Classics series disc as "Volume 1," and that is good news, because this is the best new recording of Barber's music to come my way in a long time. Surprisingly, the coupling of the two symphonies is unusual enough in itself. The addition of two of Barber's most effective shorter works makes the disc more attractive, and the powerful performances and engineering push this release right over the top. No one who loves Barber's music will want to be without it, and no one who is unfamiliar with Barber's music should miss it, although they will have to wait until Volume 2 (I assume) for the famous Adagio for Strings.
I heard Alsop conduct the Florida Philharmonic several years ago. It was an all-Tchaikovsky program – very conservative – but it turned out to be the best concert in what was an otherwise lackluster season. A student of Bernstein and Ozawa, she seems to bring passion to whatever she conducts. Nevertheless, she doesn't lose control of the music, nor does she impose herself on it in search of effects. There are many good recordings of this music conducted by Andrew Schenck, Thomas Schippers, and others, but it is Alsop's that unites the elusive elements that make a good recording great. Part of the credit certainly must go to the orchestra, which plays its collective hearts out, and to the 20-bit digital sound, which gives this disc audiophile credentials too. Not bad for a super-budget CD.
The music is reasonably familiar. Still, a word or two in its favor might sway potential buyers who are afraid of "modern music." Barber was essentially a Romantic composer, although he wrote for his times and not in spite of them. He was conservative but not reactionary. The School for Scandal Overture, written in 1933 when he was in his young 20s, is not the simple piece of Rossinian good humor that one might expect for a comic play. Its harmonic twists and insistent rhythms suggest intrigue, even menace, and yet a pastoral melody for the oboe keeps matters from getting too serious. The Essay for Orchestra, the first of what turned out to be a series of three, begins with a searing lament for divided strings, builds to a shattering climax, and ends with an poignant gesture of uncertainty; this is grand drama in music. The First Symphony, a concise work in one movement, nevertheless mirrors traditional symphonic form with a purposeful opening section, a scherzo, an elegiac section, and a powerful finale. The third section features another oboe melody, this one almost painfully expressive. The Second Symphony is a work that Barber destroyed out of dissatisfaction in 1967. Fortunately (although Barber might have disagreed), he was unable to destroy it entirely, and conductor Andrew Schenck resurrected it from a surviving copy after the composer's death. In part, the work reflects the composer's wartime experiences in the Unites States Air Force, and specifically the fear and beauty of flying an airplane at night. Barber used some of his most advanced language in this symphony, which probably explains why it is less popular. Nevertheless, the sweeping drama is characteristic of the composer, and that drama alone should make the symphony worth exploring, even for traditional-minded listeners.
As far as I am concerned, this is one of the year 2000's must-buy discs.
Copyright © 2000, Raymond Tuttle