CD Review
Jaromír Weinberger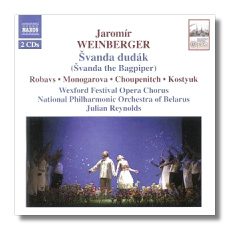 Švanda the Bagpiper
Matjaz Robavs (švanda)
Tatiana Monogarova (Dorota)
Ivan Choupenitch (Babinský)
Larisa Kostyuk (The Queen)
Alexander Teliga (The Devil)
Wexford Festival Opera Chorus
National Philharmonic Orchestra of Belarus/Julian Reynolds
Naxos 8.660146-47 DDD 2CDs: 65:36, 68:31
There was a time – specifically, in the decade before the start of World War Two - when Švanda dudák (to use its proper Czech title) was far more popular than it is today. Outside of Czechoslovakia, it usually was performed in a German translation as Schwanda der Dudelsackpfeifer. Today, if people know anything from this score, it's probably the orchestral Polka and Fugue. The complete opera was not recorded until around 1980 – again, in a German version featuring Hermann Prey in the title role, Lucia Popp as his wife Dorota, Siegfried Jerusalem as the thief Babinský, and conductor Heinz Wallberg. Sony (then CBS Masterworks) released the LPs; a CD transfer is purported to exist, but I've never seen it.
The story - a chain of Háry János -like tall tales - concerns Švanda, a newly-married farmer and a locally renowned bagpiper, who is lured away from his wife into various adventures by the charming scoundrel Babinský. These include melting the heart of an ice-hearted queen, and a trip to Hell, where the Devil is beguiled by Švanda's musical prowess. Švanda is tricked into selling his soul to the Devil, but Babinský wins it back in a crooked game of cards. Švanda returns to earth and is reunited with Dorota, and all ends happily. Weinberger's score is accomplished and colorful, but somewhat uneven. Its popularity in the 1930s is not entirely understandable, but neither is its almost total neglect since that decade.
So, what we have here, remarkably enough, is the first complete (more or less) recording of Švanda dudák as it was envisioned by its composer Jaromír Weinberger. To get this scoop, Naxos brought its recording equipment to the Wexford Festival Opera on the coast of Ireland. Most of the lead roles are taken by Slavic singers, however, and the orchestra has been imported from Minsk! Naxos recorded actual performances on October 24, 27, and 30, 2003, and assembled the current release from the best of the three. As a result, you will hear the audience applauding and chuckling, and lots of clumping and crashing from the stage. Apart from that, the engineering is excellent.
The singing is variable. Robavs and Monogarova sing attractively, and with appealing warmth in their duet. The role of Babinský is at least as prominent as Švanda, however – perhaps a miscalculation on the part of the composer? – and unfortunately, tenor Ivan Choupenitch sings it unpleasantly, with a wobble wide enough to march an army through. Kostyuk's Queen is another asset, as is Teliga's Devil, which is performed with broad humor. Perhaps because it is live, Naxos' Wexford Švanda is much funnier than Sony's, and even though the earlier recording is much better sung, some will prefer the Naxos, not just for its live electricity, but also because it doesn't forget that this is a comic opera. Reynolds, an opera conductor with an excellent pedigree, keeps everything light on its feet.
One terrible fault with this release is the absence of a libretto of any sort. There is a tracked synopsis, but that is quite inadequate for listeners who have not heard this opera before. Naxos' recording of Rossini's Maometto II, also released in late 2004, had no libretto either, but its booklet directed listeners to Naxos' website, where they could download and print one, if they wished to. Could this not have been done for Švanda, which is even more obscure than Rossini's work?
Copyright © 2005, Raymond Tuttle