CD Review
Einojuhani Rautavaara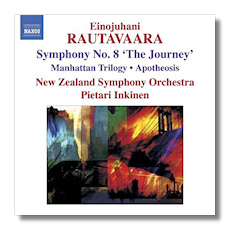 Recent Orchestral Works
Symphony #8 "The Journey"
Manhattan Trilogy
Apotheosis
New Zealand Symphony Orchestra/Pietari Inkinen
Naxos 8.570069
None of these works is new to CD, so I am guessing that Naxos' main motivation was to provide an inexpensive alternative to discs on the BIS and Ondine labels … which it does quite successfully!
Rautavaara must have a considerable following. The Eighth Symphony was premièred in 2000 by Wolfgang Sawallisch and the Philadelphia Orchestra, and already has been recorded twice before. (Not by the Philadelphians, though.) The journey in question appears to be a metaphysical one. The symphony opens with a long, impressive crescendo, but an easy climax is not reached, and I guess one could say that the journey goes on. The brief second movement, marked "Feroce," is followed without pause by a "Tranquillo," which, while arguably a sort of Nordic musical landscape, really isn't all that tranquil. The ample polytonality in this movement will clean out your ears!
The exciting finale moves through stages of struggle – and more polytonality – to achieve a visionary apotheosis.
Speaking of which, Apotheosis is Rautavaara's reworking of the finale of his Sixth Symphony, also known as "Vincentiana." (In turn, the symphony is derived from Vincent, the composer's opera about painter Vincent Van Gogh.) Apparently the stumbling-block in the original version was Rautavaara's use of a synthesizer. Not only is the synthesizer not a traditional orchestral instrument, of course, there were those who disliked the dated Emerson, Lake, and Palmer-ish air that it lent the symphony. I assume that these are the main reasons why Rautavaara revised the movement. I don't miss the synthesizer. What's left is distinctive and ingratiatingly tonal. No wonder Rautavaara has so many followers!
Manhattan Trilogy was composed in 2004, and, especially with a middle movement called "Nightmares," it is tempting to hear it as Rautavaara's reaction to the disaster at the World Trade Center. I haven't encountered anything that makes the linkage specifically. It was commissioned by the Juilliard Orchestra. Rautavaara seems to have been inspired by the city's grandeur, mystery, and implicit menace, perhaps even taking literally Goethe's dictum that architecture is frozen music. (In other words, Rautavaara defrosts the Manhattan skyline!)
All three works are masculine and appealing. I still haven't made my mind up about this composer, however. He likes his effects, and he likes to make an impression on his listeners, but sometimes his music seems a little naïve, or too much on the surface of things. On the other hand, it's consistently approachable, without pandering. Posterity will be the judge.
The New Zealand Symphony Orchestra is serviceable here; ideally, the strings would need to have a fuller sound to make the best impact. Inkinen's conducting is sensible, but his point of view is not as strong as Leif Segerstam's, for example. Still, the price is right, and I don't think that Rautavaara is at all ill-served here. The engineering is very fine, and as usual, Richard Whitehouse's booklet notes tell you what you want to know!
Copyright © 2008 by Raymond Tuttle