Related Links
Recommended Links

Site News
CD Review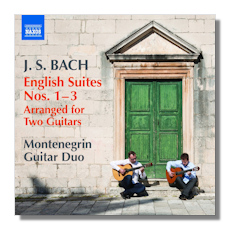 English Suite #1 in A Major, BWV 806
English Suite #2 in A minor, BWV 807
English Suite #3 in G minor, BWV 808
Montenegrin Guitar Duo
Naxos Guitar Collection 8.573473 63:20
As the guitar continues to grow in popularity as a "serious" instrument, a brief look at major release guides shows more and more unique repertoire being brought out on disc. Naxos has given us three of the composer's great English Suites as pieces for two guitars, and I have to say that I really believe this works. Guitarists Goran Krivokapić and Danijel Cerović really do explore this music in a way that I had not previously heard it. Nor are these pieces my favorite in their original form, so there is something to be said about artists who can convince me otherwise.
I understand that for purists, these recordings are probably blasphemous. I must say though, that like all great transcriptions – yes, even Leopold Stokowski's – these pay due respect to the roots of the music. Stokowski always worked from his knowledge of the organ scores (he was an accomplished player) and it is clear that the Montenegrin Guitar Duo has put equal care into preserving the detailed counterpoint and exceptionally nuanced writing that Bach gave us. Whether they meant to or not, they have successfully made the music sound like music for guitar, as opposed to a gimmick. This is no small feat, especially since many transcriptions are so outright overblown that it is hard to take them seriously. No such problem here.
Whatever your thoughts on the end result, there is no question that both men play extremely well, and are quite naturally captured within the sonic picture. Naxos has long been committed to promoting young guitarists, but as they move to capture the popularity of the guitar duo, it must be said that they have done so with musical intelligence and care. Perhaps the music loses some of its intimacy in places, or sounds a little too "Latin" in others. This last statement will either strike you as a good or bad thing; the Suites never did sound especially "English", so that isn't the problem. But if you are tired of "Spanish" guitar, I'm not sure if this disc will cure that. Part of that is phrasing; there is a whimsical freedom that is occasionally at odds with what we generally understand Bach to be. But the Duo made the arrangements themselves, and this is obviously the sound they wanted. How one responds to this disc will likely be a case by case basis, but I imagine we will be hearing quite a bit more Bach from these artists.
Copyright © 2015, Brian Wigman