SACD Review
Romantic Cello Concertos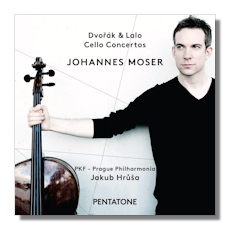 Johannes Moser, cello
Prague Chamber Phiharmonia/Jakub Hrůša
Pentatone SACD PTC5186488 65:33 Hybrid Multichannel
I was intrigued by the reviews of this disc elsewhere, which made comparisons – in the Dvořák – to the esteemed Rostropovich/Karajan version on Deutsche Grammophon. Within the first few moments of this disc, astute listeners will find that they have something special on their hands. Without bothering with my usual introductory paragraph, I can easily say that there are few versions of this work that are so well-played and recorded. Cellist Johannes Moser and conductor Jakub Hrůša truly collaborate, and the Prague Chamber Philharmonia is simply outstanding.
Writers like myself, who tend to slog through historical issues to find some "golden-age" ideal, often forget how rewarding it is to hear a modern take on a piece that we assume is lost to the ages. And indeed, Casals and Rostropovich tend to get my vote over Ma or Alisa Weilerstein. Johannes Moser offers a stark reminder of how wonderful this music really is. He plays with plenty of personality, but also a complete lack of ego. His tone is beautiful, nowhere more than in the achingly-sung slow movement. The outer movements are delightful. If Jakub Hrůša lacks Herbert von Karajan's signature sound, he at least avoids the late giant's penchant for heaviness and homogeneity. The brass really cut through when required, and the leaner sound of the Prague musicians allows for a genuine interplay between soloist and orchestra.
There are numerous highlights, from the exceptionally characterful woodwinds (perfectly captured in the label's storied sound production) to the exchanges between cello and the Prague players. Moser's instrument is happily not made to sound larger than it is. This allows us to hear all kinds of little details that are usually hidden under a closely-milked solo line. I will say that if you are looking for highly emotive version of the work akin to Du Pré, you won't find it here. Moser lets his instrument do the talking, and I imagine that some like their Dvořák a little more rough and ready. For me, this disc takes pride of place alongside Zuill Bailey's live Telarc recording for my modern disc of choice.
The Lalo concerto is a "love-it-or-hate-it" kind of work, and for me it ranks significantly below the Dvořák in terms of quality. In fact, this will be the first review of the work on Classical Net. The opening movement isn't especially cohesive, but the rest is finely-crafted and predictably colorful. It was a Jean Martinon specialty (most things were), but credit Moser and Jakub Hrůša for sticking with the whole piece, so to speak. There are a few moments where one might feel Hrůša doesn't really know what to do in that opening, but I can't decide if that's his fault or the composer's. Everything else goes so smoothly that I'm inclined to blame Lalo, and again soloist and orchestra are generally superlative. My advice is to consider the Lalo a bonus, since the Dvořák really does receive one of its better modern performances. Whether it ranks with "the best" truly will be up to you, but make no mistake, this is a terrific disc.
Copyright © 2015, Brian Wigman