Related Links
Recommended Links

Site News
CD Review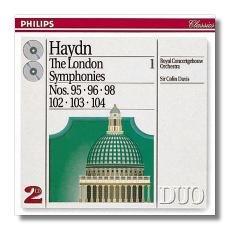 London Symphonies
Symphony in C minor, Hob I: 95 (1791)
Symphony in D Major "Miracle", Hob I: 96 (1791)
Symphony in B Flat Major, Hob I: 98 (1792)
Symphony in B Flat Major, Hob I:102 (1794)
Symphony in E Flat Major "Drumroll", Hob I:103 (1795)
Symphony in D Major "London", Hob I:104 (1795)
Royal Concertgebouw Orchestra/Colin Davis
Philips Duo 442611-2

Symphony in D Major, Hob I: 93 (1791)
Symphony in G Major "Surprise", Hob I: 94 (1791)
Symphony in C Major, Hob I: 97 (1792)
Symphony in E Flat Major, Hob I: 99 (1793)
Symphony in G Major "Military", Hob I:100 (1794)
Symphony in D Major "Clock", Hob I:101 (1794)
Royal Concertgebouw Orchestra/Colin Davis
Philips Duo 442614-2
These analog recordings from the 70s and early 80s have been painstakingly remastered into compact discs as part of Philips' Duo series. In these two space-saving volumes, they have packaged four discs of the twelve London Symphonies, all the Haydn you'd ever want to hear on a wintry Saturday afternoon. Davis is at the absolute peak of his career in these pieces, each of which has something extraordinary to say, and does so with rare energy. He skillfully conveys Hadyn's waverings between an innate sense of balance and the exuberant feelings he must have experienced, being finally free from the Esterházy court.
Many of the famous symphonies are artfully represented in this collection: a subtle "Surprise" Symphony #94, with its fortissimo outburst in the sixteenth bar of the slow movement; the energetic "Military" Symphony No 100, with its stately rhythms, elegant minuet, and barely discernible martial themes; the humorous "Clock" symphony #101; and of course the glorious "London" Symphony #102. One wonders how Davis would have handled these symphonies with original instruments, but not enough to detract from the enjoyment of the current presentation.
With a sound that rivals most digital recordings, this recording is not one you will likely forget.
Copyright © 1996, Peter Bates