CD Review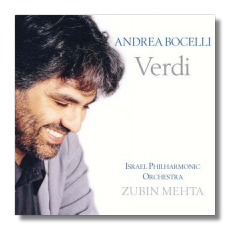 Arias
Il trovatore
Rigoletto
Un ballo in maschera
Aïda
La traviata
I lombardi
Ernani
Don Carlo
Luisa Miller
La forza del destino
Andrea Bocelli, tenor
Israel Philharmonic Orchestra/Zubin Mehta
Philips 464600-2 DDD 60:50
The Bocelli phenomenon continues with a program of 15 arias from ten operas by Giuseppe Verdi. This disc is practically pre-sold to legions of Bocelli's adoring fans, many of whom are not opera-lovers per se. There are, however, perhaps as many skeptics who feel that Bocelli's fame is a product of a publicity machine, and out of proportion to his actual talents and potential. They will see this disc as another opportunity to sink their fangs into the sensitive flesh of fame! They will do so, I must add, not entirely without reason – there is much here that concerns me and makes me question where Bocelli's career is headed. Nevertheless, I must take the middle ground and agree at least in part with Bocelli's fans that he has a beautiful voice, and that his singing presents him as a highly personable fellow. Surely those two points should make one more willing to "cut him some slack."
Bocelli has some credentials. He won singing competitions when he was still young, and later he studied with retired tenor Franco Corelli. In preparing for this CD, Zubin Mehta – no stranger to Verdi's music – worked hard to coach Bocelli in Verdian style. There's no doubt that Bocelli's savvy increases from one disc to the next. However, if Bocelli wishes to be accepted as an opera singer, his case is not strengthened by engineering that treats him very much like a pop star – it sounds as if he is swallowing the microphone. On the basis of this CD, it is not easy to make definitive statements about the size and power of his voice. All one can say is that more natural engineering would be desirable.
Bocelli is more successful in slower arias than in faster ones. "Di quella pira," for example, is compromised by his approximation of the eighth-note "shakes" in each phrase. The effect is smeary. His Barcarolle from Un ballo in maschera is as ungainly as they come; this Riccardo is too eager to reveal that he really is not a sailor! The cabalettas from Rigoletto and La traviata are somewhat more convincing, but Bocelli seems to conquer them by the skin of his teeth. He truly seems uncomfortable when the music calls for agility. He is more happy when he can be suavely romantic. In arias such as "Quando le sere al placido" from Luisa Miller, some might feel that Bocelli overdoes the portamento, though; at times he's even croony. There's heroism in his "Celeste Aïda," but also some unsteadiness. Does it come from emotion or from nothing more than nerves?
On the plus side, Bocelli's voice is very attractive. One has to go back to the young Pavarotti to hear a tenor voice that caresses the ear like this. One hears him and one immediately wants to like him. He can act with his voice, although he still has some progress to make in this area. Finally, he has ringing high notes; try the end of "Di quella pira." Not all of them are so beautiful, however; if he doesn't have adequate time to prepare them, they can be screamy.
Mehta conducts well, but without any particularly imaginative touches. (Compare this Verdi recital with the Gheorghiu/Chailly disc recently reviewed, and you'll see what a difference a strongly invested conductor can make.) Whoever programmed this disc has some explaining to do. Why start the disc with "Di quella pira" and continue it with "Ah sì, ben mio"? Why omit the orchestral postlude to "Celeste Aïda"? And why, if you are going to have a soprano sing Leonora's interjections in "Di quella pira," would you not identify her? Mysterious.
Philips is scheduled to release Bocelli's complete recording of La bohème (with Mehta and soprano Barbara Frittoli) in November. I predict every reaction from ecstasy to rage, and the print will burn off the page of all the classical record magazines. In the long run, however, it is the public who will vote.
Copyright © 2000, Raymond Tuttle