Related Links
Recommended Links

Site News
CD Review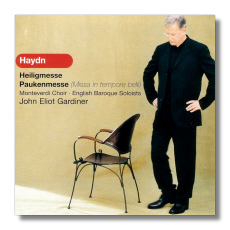 Mass in Time of War
Missa Sancti Bernardi von Offida "Heiligmesse", Hob XXII: 10
Missa in tempore belli "Paukenmesse", Hob XXII: 9
Insanae et vanae curae
Joanne Lunn
Sara Mingardo
Tori Lehtipuu
Brindley Sherratt
Monteverdi Choir
English Baroque Soloists/John Eliot Gardiner
Philips 470819-2 79m DDD
This is the final volume (Volume 1 - Volume 2) in John Eliot Gardiner's series of the six late Haydn masses and it brings this excellent set of interpretations to a fine conclusion.
Gardiner's 'Heiligmesse' is full of momentum and has fine thrust all round with an excellent team of soloists who are all quite low key but who perform quite well. I greatly enjoyed the opening 'Kyrie' and would say that it comes close to toppling Hickox who is equally excellent on Chandos.
My favourite Haydn mass, the 'Paukenmesse' is also given a stridently cohesive interpretation on all counts. The Gloria and Agnus Dei are superbly paced although I am still in preference to the famous Guest recording on Decca for sentimental reasons. The short filler from 'Il Ritorno di Tobia' is welcome and brings the disc up to almost 80 minutes.
Those who have been collecting this fine series will obviously want this final instalment and lovers of Haydn's big-boned masses are also advised to investigate.
Copyright © 2003, Gerald Fenech