CD Review
Paradisi Gloria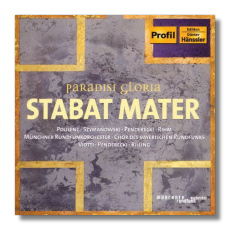 Georgina von Benza, soprano
Violeta Urmana, Iris Vermilion, mezzo-sopranos
Birgit Remmert, contralto
Fabio Previati, baritone
Chorus of the Bavarian Radio
Munich Radio Orchestra/Marcello Viotti
* Munich Radio Orchestra/Krzysztof Penderecki
** Munich Radio Orchestra/Helmuth Rilling
Profil PH04035 DDD 60:03
The Profil label, since its recent creation, has released many interesting live recordings, including the one reviewed here. In 2000, the Munich Radio Orchestra launched a yearly series of concerts called "Paradisi gloria," co-sponsored by the archdioceses in Munich and Freising. These four works were taken from "Paradisi gloria" concerts given in 2000 (Poulenc), 2001 (Penderecki), 2002 (Rihm), and 2003 (Szymanowski).
The original "Stabat mater" dates from the 1200s. Its Latin text concerns the Virgin Mary who is standing beside the crucified Jesus and grieving, and how faithful Christians wish to share her agony with her. This disc contains four notable musical settings of the text from the century just past, but we should not forget that Rossini, Dvořák, and Verdi also made significant contributions to this genre.
Poulenc and Szymanowski both elected to set this text to music of ineffable beauty. Earlier in his life, Poulenc was a diffident Roman Catholic, but by the 1950s, when he wrote his Stabat mater, he had returned to the fold. The work's direct inspiration was the death of his friend Christian Bérard. Poulenc sets the entire text, breaking it into 12 distinct movements. Most of the Stabat mater is for chorus and orchestra, although there are a few sections for solo soprano. The music's lines are clean, the textures are open and luminous, and the prettiness of the music keeps the text's pain at a distance, most of the time. It's not that Poulenc is avoiding feeling as much as he is channeling it into ritual.
Szymanowski's setting (1926), while no less beautiful, is more emotionally involved. Again, the chorus bears the brunt of the text, but there are soprano, contralto, and bass soloists. As if to emphasize the connection between Christ's martyrdom and the troubles of Poland and the Polish people, Szymanowski set his Stabat mater in Polish. (Here, it is performed in Latin, a decision which will knock this recording out of the running for some listeners. Nevertheless, Szymanowski insisted on the Polish language only for performances in Poland.) If Poulenc's Stabat mater seems to be sung by angels, Szymanowski's is sung by real people with real suffering in their daily lives. If pain is largely absent in the Poulenc, it is almost savored in the Szymanowski.
The more modern Penderecki and Rihm settings are excerpts from larger works – both Passion settings. Actually, Penderecki's began as a free-standing a cappella setting, and was included in the St. Luke Passion a few years later. The Rihm, on the other hand, sounds like a bleeding chunk without the rest of Deus Passus.
Viotti conducts the Poulenc and Szymanowski, Rilling the Rihm, and Penderecki his own setting. As for which soloist sings in which work, Profil (carelessly) doesn't tell us! These are solid performances, and the live settings give them additional impact. (They also contribute noise from the audience and elsewhere.) There are excellent studio performances of the Poulenc (Prêtre), Szymanowski (Rattle) and the Penderecki (the composer's one, on Argo), but this juxtaposition of four composers and one text is both unique and interesting. (Sadly, Profil does not include the text, either!)
Copyright © 2005, Raymond Tuttle