CD Review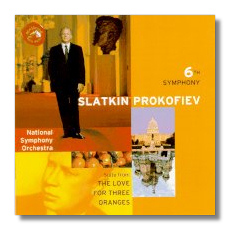 Symphony #6, Op. 111 (1947)
Overture on Hebrew Themes in for Violin, Op. 34 (1919)
Suite "Love for Three Oranges", Op. 33a (1922)
National Symphony Orchestra/Leonard Slatkin
RCA Victor Red Seal 09026-68801-2 DDD 66:07
The other day I caught myself humming passages from this symphony. There was no particular order, rhyme or reason to the sequence, it was just me enjoying portions. I was slightly swaying as I listened in my mind's ear – but not too much since I was working with my seniors on their research papers. This is my favorite Prokofieff Symphony and I am certain that this is my favorite recording. In fact, this disc is one of my favorites for 1998. There is a lot of music and all of it excellently performed and recorded.
Slatkin makes me crazy at times. His Prokofieff is wonderful, his recordings of the 1st and 5th are among the best. On the other hand, I found his Haydn to be pedestrian and his Vaughan Williams cycle was uneven, not nearly as good as the on-going Naxos cycle. Part of this was due to a recording that was distant and shallow. This new recording, using a different team and 20-bit technology, is spectacular. It is full and has depth.
Prokofieff's 6th is an enigma. I like enigmas. Commenting on the second movement, Leopold Stokowski, who gave the U.S. première, said that it would take years to understand the music.* In his book The Symphony Michael Steinberg makes some wonderful observations about the piece. He quotes Prokofieff, "Now [October 1947] we are rejoicing a great victory, but each of us has wounds that cannot be healed." Steinberg goes on to say that, "The Sixth Symphony, then, is a work of conflicting and unresolved emotions… In the first movement… we pass through a landscape of melancholy pastoral music, funeral corteges, and warring furies." I urge the reader to get a copy of this book. Steinberg manages to get to the heart of so much of the symphonic music and I seldom disagree with him.
The additional items on this disc are equally fascinating and not just icing on the cake. In the Hebrew Themes Overture Slatkin captures a lovely, lilting performance. The "Love of Three Oranges" Suite is visceral and exciting. All captured in the same glowing recording.
How does this compare with other recordings? Well, I still have a particular appreciation of Stokowski's performance. (Available on a two-LP set from the New York Philharmonic some years ago) This Slatkin recording brings to mind Stokowski's. My first recording was Walter Weller's (once available on a four-disc set of all the Prokofieff Symphonies). Going back to that one, it seems tame by comparison, almost pedestrian. For the budget minded, the Naxos recording with Kuchar at the helm still sounds very good and atmospheric. Kuchar's orchestra captures a Russian soul more so than Weller and the recording is better. Kuchar also has a wonderful filler in the Op. 110 Waltzes. [Naxos 8.553069] The bottom line, however, is that this Slatkin recording is the best I know and one of the finest recordings I listened to in 1998.
Copyright © 1999, Robert Stumpf II