Related Links
Recommended Links

Site News
CD Review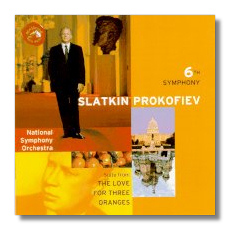 Symphony #6, Op. 111 (1947)
Overture on Hebrew Themes in for Violin, Op. 34 (1919)
Suite "Love for Three Oranges", Op. 33a (1922)
National Symphony Orchestra/Leonard Slatkin
RCA Victor Red Seal 09026-68801-2 DDD 66:07
For me, at least, there's no need for a new Prokofieff Sixth unless it has something new to say; Ormandy, Mravinsky, and others each left sterling interpretations on disc. Fortunately, Slatkin's new recording opens windows that formerly were shut. The quality of its engineering is absolutely first-class – another good reason to be curious about this release. I am sure there's not a better sounding Prokofieff Sixth on CD. (It was recorded in the Kennedy Center.)
Slatkin favors brisk tempos and biting articulation, particularly in the first movement. In so doing, he loses a little of the music's atmosphere (a curious mixture of the melancholic and the sinister). Prokofieff's long-limbed, wrong-note melodies don't seem as desperate as they do on other recordings because Slatkin goes counter to the usual practice of phrasing them as large arcs. What Slatkin gains is objectivity and tremendous clarity; consequently, the Symphony is more about form than emotion. If you want a "scientific" Sixth, then look no further.
Similarly, the Overture on Hebrew Themes and the Suite from The Love for Three Oranges are provocatively cold, if you can imagine such a thing. The former work, atypical of Prokofieff under most circumstances, actually seems more central to the composer's output when it is conducted with such clinical attentiveness. In the latter work, Slatkin goes contrary to expectations and de-emphasizes the music's motoric elements. He conducts it loosely with an apparent disinterest in self-conscious precision. The result is a Three Oranges that is odd (yet interesting) in its casualness.
In sum, this is a thoughtful disc, and I recommend it to anyone who likes the repertoire.
Copyright © 1999, Raymond Tuttle