CD Review
Charles Munch Conducts French Orchestral Music in Living Stereo
Symphonie fantastique, Op. 14
Roméo et Juliette, Op. 17: Love Scene
Boston Symphony Orchestra/Charles Munch
RCA Victor Living Stereo 09026-68979-2 ADD 59:59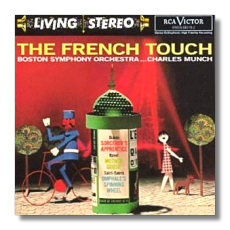 The French Touch
Boston Symphony Orchestra/Charles Munch
RCA Victor Living Stereo 09026-68978-2 ADD 50:38
North America has been fortunate to host a few "French" orchestras: those in Montréal, Detroit, and Boston come immediately to mind. As we near the end of the millennium, orchestral sound has become more homogenous, and even the Montréal Symphony Orchestra has lost some of its individuality. However, recordings remind us that all orchestras did not always sound alike.
They also remind us about conductors who were active in modern times and yet represented links with musical history. Charles Munch was born in Alsace-Lorraine in 1891, and his long career brought him in contact with composers, performers, and other conductors of earlier generations. His conducting of the French and German repertoires showed particular insight. Aided and abetted by the clear sonorities of the Boston Symphony Orchestra, he suffused the music of Berlioz, Saint-Saëns, and others with a gentle light. This light revealed the music's shapes without exaggeration, and its colors without distortion. In Munch's hands, the Symphonie fantastique becomes intoxicating, yet remains sane. His rational approach makes the grotesqueries of the fourth and fifth movements even more horrifying. For many years, this recording, made in 1954, was the only one that I would accept, and it still retains a preferred place in my pantheon of great recordings. Especially in this new Living Stereo remastering, it is easy to hear the great refinement with which Munch balances chords and blends orchestral colors; the sound is like dry champagne of the highest quality. The precision of the Boston Symphony Orchestra's playing achieves excitement without vulgarity, and weight without ponderousness or pomposity. The only shortcoming, and it is minor, is the lack of a repeat in "March to the Scaffold." The Love Scene from Roméo et Juliette has similar virtues, and it is all the more moving for not being torn to passionate shreds. By the way, the cover art, not credited on this release, is by an artist named Richard Powers, who has been one of the most prolific science fiction artists for several decades.
The original French Touch was recorded in 1957-58; the Franck, which has been added for this release, was recorded a few years later as a filler for the Chausson Symphony (another brilliant Munch/Boston Symphony Orchestra recording awaiting a Living Stereo reissue). This French Touch is a veritable French kiss of delight. It is beyond me why Saint-Saëns's drag portrait of Hercules, feminized at the spinning wheel, is so infrequently played; it is a fool-proof model of mocking wit and bewitching orchestral shadings. The same can be said of The Sorcerer's Apprentice. From conductor to conductor, I am never sure whether to be threatened or amused by Dukas's story of convenient indoor plumbing run amok. At any rate, it's one of those rare works that deserves the epithet "perfect," and although I like it performed with a little more tight-lipped menace (as in recordings by Cantelli and Mitropoulos), there's no denying the corresponding perfection of Munch's genial interpretation. He resists the temptation to sentimentalize the fairy tales of Ma mère l'Oye, and he even finds a smile for the faded melodrama of Franck's Chasseur maudit, the terrifying story of what happens to hunters who disobey the Blue Laws.
On both discs, the quality of the stereo imaging is superior, and even vinyl lovers will be impressed with the warmth of the remastering, which is unlike RCA Victor's previous efforts with this material. Highly recommended!
Copyright © 1999, Raymond Tuttle