CD Review
Motherland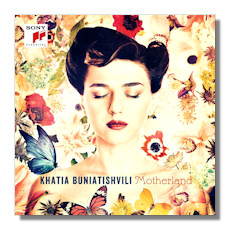 Johann Sebastian Bach: Cantata BWV 208, #9: Aria: "Schafe können sicher weiden" (arr. Egon Petri)
Piotr Ilyitch Tchaikovsky: The Seasons Op. 37b, #10: "October - Autumn Song"
Felix Mendelssohn: Lied ohne Worte in F Sharp minor, Op. 67/2
Claude Debussy: Suite Bergamasque #3: "Clair de Lune"
Giya Kancheli: Main Theme From The Film "When Almonds Blossomed"
György Ligeti: Musica ricercata #7, in B Flat Major
Johannes Brahms: Intermezzo in B Flat minor, Op. 117/2
Franz Liszt: Wiegenlied, S.198
Antonín Dvořák: Slavonic Dance for Four Hands, Op. 72/2: "Dumka" *
Maurice Ravel: Pavane pour une infante défunte
Frédéric Chopin: Etude in C Sharp minor, Op. 25/7
Alexander Scriabin: Etude in C Sharp minor, Op. 2/1
Domenico Scarlatti: Sonata in E Major, K. 380
Edvard Grieg: Lyric Piece in E minor, Op. 57/6: Homesickness
Georg Friedrich Handel: Menuet from Suite in G Minor, HWV 439 (arr. Wilhelm Kempf)
Arvo Pärt: Für Alina in B minor
Traditional: Vaguiorko ma / Don't You Love Me? (arr. Khatia Buniatishvili)
Khatia Buniatishvili, piano
* Gvantsa Buniatishvili, piano
Sony Classical 8888-37346-2 65m
I don't believe I have ever encountered a recording by a pianist or any instrumentalist with repertory as varied as the offerings on this CD. Khatia Buniatishvili, in her third recording for Sony, reaches back to J.S. Bach and Handel and then all the way forward to Ligeti and Pärt, with stops in between for Chopin, Grieg, Tchaikovsky and many others. There are seventeen pieces on the disc, all lasting under six minutes, with the average duration around three to four minutes. The various works come in different forms: there are etudes by Chopin and Scriabin, a sonata by Domenico Scarlatti, a Dumka by Dvořák, a song-like piece by Liszt (Wiegenlied), a Kancheli transcription from a theme he wrote for the film When Almonds Blossomed, a traditional piece (Vaguiorko) arranged by the pianist, and much else. While there is a wealth of variety on this disc, the works share more similarity than you would expect: for the most part the music here is thoughtful and intimate, without sounding angst-laden or austere. While some of the pieces are difficult, in general they are not virtuosic, but still pose a considerable interpretive challenge to the performer.
Buniatishvili scores best in the Romantic-leaning pieces (Liszt, Chopin, Brahms, et. al.) and the contemporary music. Her Liszt Wiegenlied is songful and lovely, while her Tchaikovsky Autumn Song is beautifully poignant. The latter piece is, along with the nicely played Ravel Pavane pour une infante defunte, the saddest work on the disc. But the Lied Ohne Worte by Mendelssohn is perhaps the happiest, as the pianist infuses this charming piece with an infectious vitality and spirit. Debussy's Claire de lune is a bit too slow for my taste, though it is quite lovely still. The Brahms B flat minor Intermezzo is treated more gently than you're accustomed to hearing, but Buniatishvili's rendition is a thoughtful account closer in spirit to the more restrained Brahms of Emanuel Ax than that of the spirited and edgy Stephen Kovacevich. In the Dvořák Slavonic Dance, Buniatishvili is joined by her sister Gvantsa for an elegant, subtle but quite vital rendition of this charming four-handed piece. By the way, a live performance of this piece performed by this duo is available on YouTube, if you want to sample their consummate artistry.
As suggested above, Buniatishvili is also at home in the contemporary works. Pärt's Für Alina gets a splendidly sensitive reading: don't wonder at the slow tempo – it's the composer's preference. That said, I did hear a couple of pianists play it significantly faster and their versions were arguably as effective. Ligeti's Musica ricercata (# 7), marked Cantabile – molto legato, features a lovely, somewhat lonely melody in the upper register played against an insistent racing motive in the left hand. The music usually sounds conflicted and contradictory, but here Buniatishvili brings the seemingly disparate parts together to yield a lovely if neurotic unity of expression. One of the best performances on the CD!
Buniatishvili's Baroque performances are also quite fine, although her legato phrasing may strike some as a bit too buttery for this music. Not only does she employ a good measure of legato in the Scarlatti E major Sonata (K. 380), but she plays the music in a mostly gentle manner, which slightly undermines the chipper nature of the work. Still, her account will please many listeners, as it doesn't depart significantly from the approach of Horowitz, who often played this sonata to acclaim.
By the way, this album is dedicated to the pianist's mother who was her and her sister's first piano teacher – hence, the title Motherland. In sum, nearly all of the pieces on this CD are very convincingly played, and Sony provides vivid sound. If you're interested in solo piano music of great variety, this disc certainly will not disappoint you. For fans of Khatia Buniatishvili of course, this CD is a must.
Copyright © 2014, Robert Cummings