CD Review
20th-Century Piano Concertos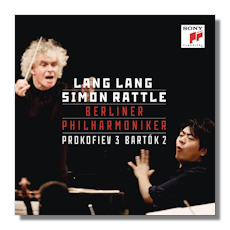 Lang Lang, piano
Berlin Philharmonic Orchestra/Simon Rattle
Sony Classical 88883-73225-2 61m
Lang Lang's first concerto recording for Sony after a string of successful recital discs features a logical but heretofore unseen coupling, the popular Prokofiev Third and the less commonly heard Bartók Second. Both composers' Thirds have appeared together before, courtesy of Julius Katchen and Martha Argerich, and the Prokofiev Fourth and Bartók First were issued on a 1963 Columbia LP with Rudolf Serkin as pianist. In pairing works by these two 20th century titans Lang Lang points up many stylistic similarities, including of course their well-known percussive and motoric tendencies. But Lang, especially in the Prokofiev Third, brings out the plentiful lyricism, often milking it for all its soaring beauty.
Lang's Prokofiev Third is among the most expansive accounts ever recorded. Of the several dozen recordings I have of this concerto (okay, I admit I like the piece), only Jon Kimura Parker on a 1986 Telarc CD and Friedrich Wührer on a 1950s LP were slower – but neither by more than a minute. However, Lang is far more spirited, far more animated and simply more compelling in this work than most other pianists. He and Rattle collaborate to deliver an epic Prokofiev Third, with powerful and driving fast music setting the stage for stark contrasts in the slower sections where the composer's Romantic side emerges in luxurious, almost Rachmaninovian outpourings. Try the big theme in the finale's middle section: Lang turns on the sense the music is suspended in some sort of sonic paradise, as the melody leisurely soars to the heavens in the strings while he sprinkles the aural canvas with cascading raindrops that portend no storm but only emerging sunlight. When the first movement's opening theme reappears in the middle section it gets a similar buttery treatment, although the surrounding sections crackle with energy and all sorts of meaningful detail from both pianist and orchestra. The second movement theme and variations is brilliant for its deft contrasts: the march theme is given a rather robust opening statement by the orchestra, but Lang's first variation is gentle and mysterious, almost hypnotic; the ensuing pair of fast variations come on like gang busters, while the fourth variation is mesmerizing in its gloomy allure; the final variation is brilliant and all-conquering in its grandeur and breathless pacing, while the return of theme winds down but only grudgingly. The finale, except for the slower music in the middle section, is also brimming with excitement right up to the closing chords, whose manic happiness is brought out clearly by Lang above the powerful orchestral sonorities.
Byron Janis, Martha Argerich (with Dutoit, not Abbado), Van Cliburn, and many others have given us splendid accounts of this concerto, but this one by Lang must be counted as competitive with the best.
The Bartók Second has had some fine recordings as well, including of course the acclaimed 1960 Geza Anda effort on DG. Stephen Kovacevich, Yefim Bronfman, Jenő Jandó, and György Sándor also offer excellent accounts in their single-disc cycles of the three Bartók piano concertos. Lang takes a similar "epic" approach to Bartók: sonorities are big, tempos tend toward the leisurely side and percussive elements are less brittle, more muscular than usual. Still, Bartók's music is sufficiently colorful and energetic in the outer movements and certainly mysterious and menacing in the second panel's "night music." The middle section of the second movement is brilliantly light and playful as Lang dazzles with all gradations of dynamics at lightning speed. Lang starts the finale begins with an appropriate mixture of urgency and mystery and later on delivers the cadenza with a madcap brilliance. This work is, along with the Rachmaninov Third and Prokofiev Second, considered among the most challenging concertos in the repertory. Lang plays it with seeming ease and in the bargain delivers one of the stronger accounts on record.
Throughout both works Lang is aided by the masterful leadership of Sir Simon Rattle, who draws utterly spirited and accurate playing from the Berlin Philharmonic. Sony offers highly detailed and powerful sound reproduction. Lang Lang's fans, as well as those of Prokofiev and Bartók, should find this disc to their liking. I should mention that Sony is also offering a deluxe version of this recording that features a second disc, either DVD or Blu-ray, presenting a documentary entitled The Highest Level, which includes a performance of the first movement of the Prokofiev Third.
Copyright © 2013, Robert Cummings