CD Review
20th-Century Piano Concertos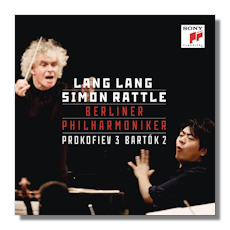 Lang Lang, piano
Berlin Philharmonic Orchestra/Simon Rattle
Sony Classical 88883-73225-2 61m
For a classical album, this disc sure got a lot of hype. And you know what? The hype was justified. After the dreary efforts of Dudamel on DG with this very orchestra, it's good to see the ensemble back in excellent form. In my Detroit Symphony review of this very same Prokofiev concerto and pianist under Leonard Slatkin, I predicted that this disc would be good, not great. The final analysis proves the result to be the other way around. Simon Rattle allows his orchestra to make beautiful sounds, and the young Chinese superstar is on his very best behavior.
Comparisons to the great recording that features Argerich with these forces (under Abbado) on DG haven't cropped up yet, but they might, and that would be unfair. Comparing Karajan's orchestra to Rattle's is the first mistake; the second is comparing Argerich to Lang Lang. There were strengths and weaknesses in Karajan's band, and I'm pretty sure that Argerich is human, maybe. At any rate, times have changed, and while I usually look to the past in reviewing a new album, here I think it would be unwise. The bottom line is that Lang can play anything, but here he plays with a sensitivity and nuance that is both somewhat unexpected and entirely welcome. Rattle also contributes in a positive sense, his winds and strings being particularly impressive. Compared to Lang Lang live, the pianist seems a little more controlled on disc, but also more expressive and musical as a result. Give Sir Simon credit for following his sometimes unpredictable soloist like a shadow.
The Bartók makes an unusual but apt coupling, and here the partnership of Lang/Rattle hits its apex, there is drama and excitement here that isn't always present with the Berlin players these days. And I'm reminded – both here and in the Prokofiev – just how fine Rattle's accomplishments are in modern music. Lang Lang is unfazed by the demands of this rarely heard masterpiece; he makes it sound easy. And again, he's able to curtail his enthusiasm and wildness to bring out the maximum poetry without sacrificing virtuosity. Again, Rattle follows his charge every step of the way, and despite some thrilling tempi, nothing sounds rushed. Maybe the Berlin Philharmonic lacks some of its former luster, but how wonderful it is to hear this group playing their hearts out.
I'm not always a fan of superstar team-ups, and they sometimes disappoint all the more owning to the expectations. No fear of that here; this is easily a feather in the cap for Sony, for Lang Lang, and for the Berlin Philharmonic. Buy it, love it, and hope for more. A musical thrill ride that proves to be worth the price of admission.
Copyright © 2013, Brian Wigman