Related Links
Recommended Links

Site News
CD Review
Lang Lang Live in Vienna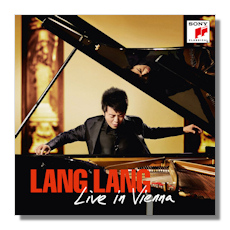 Sonata for Piano #3 in C Major, Op. 2 #3
Sonata for Piano #23 "Appassionata" in F minor, Op. 57
Isaac Albéniz: Suite Iberia - Book 1:
#1 - Evocación
#2 - El Puerto
#3 - Fête-dieu à Seville
Serge Prokofieff: Sonata for Piano #7 in B Flat Major, Op. 83
Etude in A Flat Major, Op. 25 #1
Polonaise "Heroic" in A Flat Major, Op. 53
Waltz "Valse brillante" in A Flat Major, Op. 34 #1
Lang Lang, piano
Sony Classical 8869-771901 2CDs
What can one say after listening to such mind-boggling and jaw-dropping pianism? Column inches have already been written in their thousands praising the magnificence of the sensation that is Lang Lang so when this CD (and digital download) arrived, I was eager to begin the promised sensational musical journey.
It is a joy to report that all the superlatives attributed to Lang Lang are utterly deserved. He brings an utter simplicity to the Beethoven sonatas with flawless and unencumbered technique which demonstrates a pianist at the very height of his quite awesome powers.
The second disc is perphas the party one as Lang Lang lets off all the steam in anumber of virtuosos performances that will have you washed out at the end. The Prokofiev Sonata brings even the great Richter to shame while the Chopin pieces are beyond description. You really shouldn't waste more of your time reading this review but should be at your local music shop buying the CD (and DVD if you can) or beavering away on the Sony website downloading the tracks!
With a highly readable essay-cum-interview by Gramophone editor James Jolly and a host of photographs, the booklet is also a must have. Let's have more from Lang Lang – very soon please Sony!
Copyright © 2010, Gerald Fenech.