Related Links
Recommended Links

Site News
DVD Review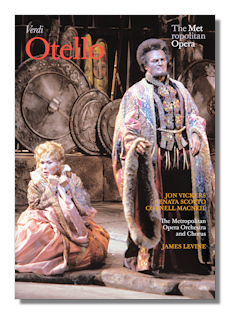 Otello
Jon Vickers (Otello)
Renata Scotto (Desdemona)
Cornell MacNeil (Iago)
Raymond Gibbs (Cassio)
Jean Kraft (Emilia)
Andrea Velis (Roderigo)
James Morris (Ambassador)
Metropolitan Opera Chorus & Orchestra/James Levine
Sony DVD 8869-791012-9 144 min
Watching this "Otello" taped at the Met on 25th September 1980, aroused in me no small hint of jealousy. Not comparable with Iago's, of course, but for the audience, who must have been pulverized by a performance so staggering, that I doubt whether it has ever been bettered since. I do not know what got into Vickers, but his Otello has a larger than life element that transcends even the character itself. Passionate, violent yet tenderly loving, he penetrated right into the heart of the Moor's tormented spirit and gives a performance of such glowing intensity that we are made to believe that what we are witnessing is indeed a reincarnation of Otello himself.
Renata Scotto is a gorgeous yet pious Desdemona, the innocent victim of a hideous plot that finally ends in murder at her husband's hands. The Italian diva's rendition of this gentle character is full of warmth and pathos, her top register, in particular, being always at the fore when the situation demanded it. Scotto's acting is also extremely effective, serving as a foil to Vickers's volcanic anger and gnawing anguish.
MacNeil's portrayal of the diabolical Iago is top-drawer stuff. Being the consummate artist that he is, his merging of singing and acting is so finely balanced and controlled that all of Iago's evil cruelty and insatiable ambition are brought out with telling effect. Jean Kraft, Raymond Gibbs, Andrea Velis and James Morris in the minor roles all give creditable performances, and their professional dedication to the show is one of the reasons why this Otello is an experience of a lifetime.
Franco Zeffirelli's masterful production and set-design, Peter J Hall's sumptuous costumes and Fabrizio Melano's meticulous stage direction complete a priceless document of one of the Met's greatest nights that should be in everyone's collection. Despite the variable audio and visuals, which is to be expected, I have nothing but an unreserved recommendation. Just buy it.
Copyright © 2011, Gerald Fenech