CD Review
Meyer Kupferman
Orchestral Music, Volume 8
Symphony #4 *
Little Symphony
*The Louisville Orchestra/Robert Whitney
Vienna State Orchestra/Franz Litschauer
Soundspell Productions CD 121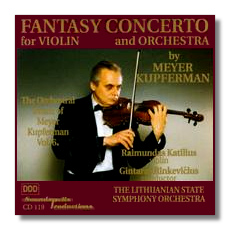 Orchestral Music, Volume 6
Fantasy Concerto for Violin and Orchestra
Raimundas Katilius, violin
Lithuanian State Symphony Orchestra/Gintaras Rinkevicius
Soundspell Productions CD 119
Meyer Kupferman is an American original. A rebel against the recording establishment, he founded Soundspells Productions and produces all his own material. A neo-romantic in a dissonant age, he attempts vast orchestral works and tangles with themes so gigantic they hearken back to the late 19th Century. "What is the nature of freedom, belief, and doubt?" he seems to ask in his Fourth Symphony (1955). There are no easy answers in this programmatic symphony, for, like Bedřich Smetana's From My Life and Arnold Schoenberg's Verklärte Nacht, it is based on a literary work. It loosely interprets the famous (and ponderous) "The Legend of the Grand Inquisitor" chapter from Dostoyevsky's The Brothers Karamazov. Christ is brought before the Grand Inquisitor's Spanish Inquisition and condemned to die a second time for deceiving gullible believers. Ominous rumbling tones open the piece – Bartók peeks in, Bruckner's in the wings – as Kupferman explores the disquiétude felt by medieval man witnessing Christ traipsing among them once again. The strings' violent outbursts parallel the Inquisitor questioning the Christ, most likely about his callous rejections of "miracle, mystery, and authority." Mahlerian French horns splash the canvas with charcoal gray motives, as the Grand Inquisitor threatens the redeemer with a second death, but not before giving him a stern talking to. There are even remnants of Beethoven's "Muss es sein" motif from his Opus 135 string quartet. Alternating rippling chords with a plaintive atonality, Kupferman mixes feelings of dread and sadness without disturbing the listener, like Shostakovich can do. The piece ends in an adagio of ascending chords, sprinkled with bewildering dissonance, as if posing an ontological "what now?" Despite its weighty themes, it is a likeable late-night piece. Listen to it when you're depressed because your boss yelled at you. It may remind you there was a time when people like you were strapped to the auto-da-fe.
For a bouncier work, listen to Kupferman's Little Symphony (1952) on the same disc. Like Prokofieff's Symphony #1 ("Classical"), it is an exercise in Neo-Classicism, a callow showcase piece that demonstrates the composer's versatility with sunny counterpoint and undaunting recapitulation. Nothing new here and nothing offensive either. Listen closely and you hear snatches of Hadyn, Mozart, Beethoven, even Rossini. Kupferman stated he needed to "get the need to satisfy traditional gestures out of my system once and for all." A practical gesture and perhaps necessary at the time. But could Kupferman have lampooned these forms, ever so slightly? Even Prokofieff – and certainly Schnittke with his polystylism – didn't take the old masters that seriously. I don't know whether to blame its slapdash construction or Franz Litschauer's humdrum conducting, but the Little Symphony is like an antique snuff box. It's a curiosity, but one too insignificant to ponder long.
The Fantasy Concerto for Violin and Orchestra (1995) is a different matter. It takes risks and states its business from the opening bars. To draw you in, to wake you up, to make you vaguely uneasy, then to dazzle you, reminding you that shameless virtuosic displays are not passé. After a rawhide-taut introduction, the violin leaps in and declaims its bars like a Latino poet, alternating bluster with tenderness. "My concerto is like a complex mythological adventure with the violin representing the heroic renewals of youth, love, and the quest for beauty and eternal truth," Kupferman proclaims. No matter. You may not find eternal truth in this expressive, tonal work that nods briefly at Jan Sibelius' Concerto for Violin and Orchestra, then goes its merry way. At times the orchestral accompaniment can be muscular, even ominous (mythological monsters lurking?) as it presents a rigorous contrast to the violin's lyrical moments. Violinist Raimundas Katilius plays the two bewitching cadenzas most excellently, imparting quirky rhythms to some passages. They sound like Central European folk melodies gone awry. Forget Vivaldi's smooth predictability and wake up to this piece.
I have one minor nit to pick with both of these discs. They both weigh in under 45 minutes! In an age of 77-minute CDs, can there ever be an excuse for such parsimony? With Kupferman's vast repertoire, he could easily have fit one more piece onto each disc. This is one case in which a composer can control his own packaging.
Copyright © 1998, Peter Bates