DVD Review
Dancer's Dream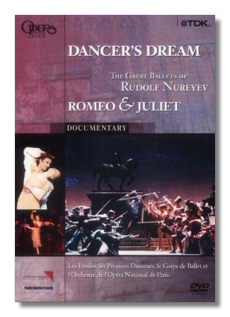 A Documentary about Nureyev's Performance of Prokofieff's Roméo and Juliet
Elizabeth Maurin, Juliet
Manuel Legris, Romeo
L'Orchestre de l'Opera National de Paris/Vello Pähn
TDK DVD BLDDRAJ
This is an uncomfortable recording to review: I didn't even know how to list its credits in the headnote. They could be placed under Nureyev, under Prokofieff or under some generic heading such as 'ballet documentaries'. Why? Let me start off by saying what this DVD recording isn't. It isn't a complete performance of Prokofieff's Roméo and Juliet. Some might assert that it barely qualifies as a recording of excerpts.
What it is, and what the cover indicates but doesn't quite make completely clear, is a documentary in French (with English, Spanish and Italian subtitles) that contains snippets of Prokofieff's great masterpiece. The word 'Documentary' appears under 'Roméo and Juliet' on the cover (which appears under 'Dancer's Dream – The Great Ballets of Rudolf Nureyev'), but no further clarification is given of what in particular is presented on the DVD. The entire cast of the ballet is listed on the back cover, and some might therefore think this is a complete recording of Roméo and Juliet. I did.
The sound is excellent, the camera work fine, and the dancing beautiful. But much of the dancing is from rehearsal takes, with piano accompaniment. What is sometimes maddening about this film is that just when you get drawn into a particular scene, just as Prokofieff's music takes on a passionate character, the film often cuts to another cue or back to a rehearsal scene. If you're interested in ballet from a behind-the-scenes perspective, this DVD would likely be of great interest to you. But if you want to buy a recording of Roméo and Juliet, pass on this one.
That said, Prokofieff mavens may want this recording because it does offer background information on the origins of the ballet and contains film footage of some of the earliest performances of it. If you want to see the great Galina Ulanova and Konstantin Sergeiev on film – briefly albeit – then this is your chance. There is also additional information on Shakespeare – and on Nureyev, of course. There is also some illuminating commentary by the dancers and others involved in the production.
The musical performances are decent, though the conducting at times draws slightly stiff playing. In the end, I can say I found this a thoroughly interesting production, even though I would have preferred to sit down to see these forces dance the complete ballet. Running time is about an hour-and-a-half, and thus even if this DVD contained nothing but dance and music, it would have fallen far short of the ballet's two-and-a-half hour length.
Copyright © 2003, Robert Cummings