CD Review
Rainbow Body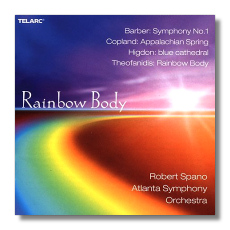 Christopher Theofanidis: Rainbow Body [12:56]
Samuel Barber: Symphony #1, Op. 9 [20:13]
Aaron Copland: Appalachian Spring [23:20]
Jennifer Higdon: Blue Cathedral [12:19]
Atlanta Symphony Orchestra/Robert Spano
Telarc CD-80596 69:06
This is a must-have recording for anyone who cares about the state of music today, or about the survival and vitality of classical music, or simply about the continuity of the mainstream of orchestral composition and performance. With all the ominous reports about the shrinking of orchestral audiences and budgets (in the U.S.) there is encouragingly more creativity among classical composers recently than is easy to keep up with, and the two recent works on this recording have both caught me by surprise and aroused my enthusiasm. No doubt I just don't read the right (trade) publications, or maybe live in the right city, but, until recently, I had never heard of Jennifer Higdon or Christopher Theofanidis, even though both are quite accomplished. (Just check Google or LexisNexis.) Higdon's Concerto for Orchestra premièred to great acclaim by Sawallisch in Philadelphia last year, luckily for her at just the time and place where the American Symphony Orchestra League was meeting. Spano, whose recording of that is to be released next year, recently played it at Tanglewood. Theofanidis, on the composition faculty at Peabody Conservatory for the past three years – previously at Julliard and elsewhere – has had numerous important commissions and major awards. Still, I am sorry to say, this recording is the first time I have so much come across his name.
I am going to discuss the works and performances in the order Telarc gave them, because that arrangement seems particularly apt.
Rainbow Body, the title of which, the composer says, makes reference to positive energy in the concept of Buddhist enlightenment, is avowedly built around fragments of a melody from one of the "sensual and intimate" chants by Hildegard von Bingen. Theofanidis does a great deal with this material. The work strikes me as an ideal concert opener – or finale, for that matter. It is the length of a substantial overture (nearly 13 minutes); it got my favorable attention at once with a solo by the bass clarinet, one of my favorite instruments; and it works up to a thunderous conclusion. Before letting his main melody flow, to a quiet shimmering accompaniment, and with a deliciously unexpected momentary downturn, Theofanidis offers some striking figures and phrases on very low to high solo strings, also to a pianissimo shimmer. About a third of the way through, there is an outburst and the music becomes fierce and percussive (and momentarily a tad cinematic, which I confess I found offputting at first – let's just say he briefly pulls out all the stops). When the broad flowing melody is allowed to return, that is eventually interrupted with a striking – and loud – five note figure for muted brass. A quieter phrase then sounds almost as if it were repeatedly asking a question, before the final upbeat conclusion with un-muted brass over a pounding accompaniment and a final thump.
The Barber and Copland surely do not require a description, as they are well-established in the repertoire, if less well than I would prefer in the case of the Barber. I became acquainted with both these works when I was young, and have loved them since. The symphony is one I admire enormously. It was of interest to me that, in comparing recorded performances of these works, I was able to hear the very intense Barber repeatedly without fatigue, but I could not listen to the much more relaxed Copland twice in succession.
That said, I think that Spano's performance of each of these works compares quite favorably to other performances I have heard. In the case of the Barber it comes closest, in timing and intensity, to Howard Hanson's old recording – remarkably good for its time – on Mercury. Slatkin and Järvi are significantly slower, especially in the first half of this single movement piece. Although generally labeled neo-romantic, parts of this symphony exhibit a downright Stravinskian savagery, and Spano brings that out. In the ravishingly exquisite slow section with the oboe solo, Spano does not withhold the full lush lyricism – which is indeed romantic – but then builds the returning tension with admirable control; and the subsequent section with the rapid-fire trumpet notes is the fastest I have heard. This ability to relax as well as push tempi as appropriate is something I particularly respect in a performing musician. (The younger Bernstein had this ability to an extraordinary degree and I think this was the secret of the success of Van Cliburn in theat famous competition and subsequent recording.)
Spano's recording of Appalachian Spring also stands up well to the fine performances of both Bernstein and Copland himself. The pace is satisfyingly broad in the slower parts, but a bit less leisurely than the comparisons – though never rushed. There is a nice strut to the accompaniment of the "Gift to be Simple" passage that I have not heard before. By the way, this recording was made possible in part by a grant from the Aaron Copland Fund for Performing Ensembles.
Blue Cathedral was commissioned by Curtis – where Higdon teaches – for its 75th anniversary, and was completed in memory of Higdon's younger brother, whose name was Andrew Blue. Jennifer Higdon describes the visual associations the music has for her, but as I almost never have visual associations to music myself – and the one that does come to mind, in connection with another piece, is morbid – which this music certainly is not – I cannot follow her there.
Coming after the Copland on this recording, the placement allows the listener to note, in a Coplandesque flowing melody, a gesture to one of the musical influences Higdon acknowledges. Among other influences, she credits the Beatles for her sense of rhythm. She studied with George Crumb. But this work as a whole is new and fresh. For whatever it is worth, Ned Rorem considers her one of the best composers in America.
Blue Cathedral begins and ends quietly, with soft tinkling percussion, with ethereal effect. After I strained to identify all the percussion instruments in this piece I learned that they include about 50 Chinese metal balls containing chimes which Higdon lends for performances, so I am glad I did not stick my neck out. There are some exceptionally satisfying woodwind passages; Higdon is a flautist. When the climaxes get loud, vigorous, fast and thrilling, the strings play strikingly against the brass, and the brass against the percussion. And this is not to mention how she uses the harp… A wonderful piece.
Inevitably, the term "conservative" tends to come up in connection with all of these pieces. Richard Dyer, in the Boston Globe said – of Higdon's Concerto for Orchestra – that it could have been composed in the 1940's by Schuman or Piston. If its movement for percussion is anything like Blue Cathedral, I doubt that very much. (And as for Piston being conservative, someone I thought highly of otherwise, during Piston's lifetime, made a point of pronouncing that composer's name with a strong, rude emphasis on the first syllable.) Bernard Holland, in The New York Times, confessed himself embarrassed by the end of the Theofanidis when he heard it in Atlanta. That is his problem. I think this music is both good and exciting. There is much in these new pieces that is fresh and inventive. Audiences reportedly have found them sensational. That is important. Orchestral music simply has to appeal to large audiences if it is going to survive. (Chamber music can take care of itself.) If that is acceptance of a degree of conservatism, so be it.
Copyright © 2003, R. James Tobin