Related Links
Recommended Links

Site News
CD Review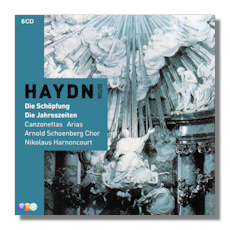 Oratorios
"The Creation" Hob XXI:2 1
"The Seasons" Hob XXI:3 2
Original Canzonettas: Books I & II, Hob XXVIa:25-36 3
Insertion arias 4
Cantilena pro Adventu 4
Cantata "Misera noi! Misera Patria!" 4
Motet "Insanae et vanae curae" 4
1 Edita Gruberová, soprano
2 Angela Maria Blasi, soprano
1,2 Josef Protschka, tenor
1,2 Robert Holl, bass-baritone
3 James Griffett, tenor
3 Bradford Tracey, fortepiano
4 Teresa Berganza, soprano
1,2 Arnold Schoenberg Choir
1,2 Vienna Symphony Orchestra/Nikolaus Harnoncourt
4 Scottish Chamber Orchestra/Raymond Leppard
Warner Classic/Teldec 2564-69563-9 6CDs
This is the fourth set in Warner's excellent Haydn series reissued for the composer's 200th anniversary, which is due in 2009. This time we are given the two major oratorios and two interesting discs including canzonettas, arias and other vocal works.
"The Creation" and "The Seasons" are famous recordings by the indefatigable Nikolaus Harnoncourt. Both works are imbued with typical energy with the former perhaps the least successful as it is rather more difficult to bring off although the choruses and soloists are splendid. I rather enjoyed "The Seasons" more and compared with other luminaries in this work such as Karl Böhm (incidentally also with the Vienna Symphony) and Sir Thomas Beecham's English version Harnoncourt is right up there especially in the lovely choruses which have an infectious spring in their step.
The other two discs contain interesting stuff for Haydn aficionados in the form of canzonettas and other assorted vocal works. The so-called "Insertion arias" are particularly interesting as are two cantatas which are also extremely rare. All in all this is a fine set if you want to have some of Haydn's best vocal works together and some more besides. As expected from Warner, notes and recordings are of excellent quality.
Copyright © 2009, Gerald Fenech