CD Review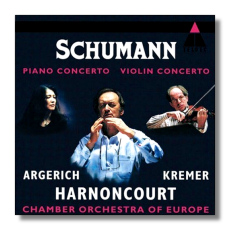 Piano & Violin Concertos
Piano Concerto in A minor, Op. 54 (1845)
Violin Concerto in D minor (1853)
Martha Argerich, piano
Gidon Kremer, violin
Chamber Orchestra of Europe/Nikolaus Harnoncourt
Teldec 90696 63min
I first became acquainted with Schumann's tragically underrated Violin Concerto while listening to a symphony concert on the radio many years ago. Henryk Szeryng was the soloist on that memorable occasion, and in an intermission interview he spoke passionately about the significance and greatness of this work. After hearing his impassioned performance, I found myself in total agreement with the violinist's assessment. Since Szeryng's time the concerto has had few champions. One of the most prominent of these is Gidon Kremer, who has now recorded it twice (his earlier EMI version is now out of print, unfortunately). This time around, he's taken a fresh look at the score. He is now convinced that the composer intended a much slower tempo for the finale than what we are accustomed to from the recordings of Kulenkampff, Lautenbacher, or Szeryng. The metronome marking for III is very clearly specified as 63 beats per minute in the composer's autograph score. "At this tempo," Kremer remarks in the booklet, "every bar is playable." Szeryng, however, had no trouble playing precisely the same notes as Kremer, but at a much faster clip:
| | | | | |
| --- | --- | --- | --- | --- |
| | I | II | III | Total |
| Szeryng | 13:25 | 5:22 | 9:12 | 28:08 |
| Kremer | 15:31 | 4:49 | 12:22 | 32:52 |
Which way is right? Fortunately for critics (and listeners, too!) there are no definitive answers in the realm of art, and both approaches are valid. The music is undeniably more exciting at Szeryng's quicker pace. If Schumann had retained his sanity long enough to hear a performance of the concerto, he might well have reconsidered the choice of a relatively slow tempo to conclude the work. On the other hand, there is a nobility and grandeur to Kremer's interpretation that is missing in those recordings that employ the traditional faster tempo. Harnoncourt, in an interview also quoted in the booklet, reads from a letter Schumann wrote to violinist Joseph Joachim explaining that this finale ought to sound like two distinguished Poles dancing a polonaise. Indeed, Harnoncourt's crisply accented accompaniment makes the polonaise rhythm clear for the first time. And once you've heard Kremer, all the other versions sound much too fast. As can be seen from the comparison of timings above, Kremer also chooses a very expansive tempo for I. This allows him to plumb the depths of this deeply introspective music, and sing its richly melodic lines lovingly. His tone is richer and more full-bodied than Szeryng's, though that is probably the resultof Mercury's "Living Presence" recording rather than any deficiency on the part of the Polish violinist. Like his great predecessor Mischa Elman, Kremer has a phenomenally beautiful lower register that has much of the resonance and depth of a cello. Harnoncourt is particularly adept at capturing the dark, Brahmsian seriousness of this music, and he proves to be a far more musical and less wayward accompanist than I would have expected.
With 66 versions of the Piano Concerto listed in the current Schwann/Opus - including memorable ones by Bishop-Kovacevich, Fleisher, Istomin, and Moravec - I didn't have any great expectations for this new one. Nor do controversial tempos set this recording apart from such formidable competition; Argerich timings are almost identical to Fleisher's in all three movements. At first I was put off by the diminutive orchestra and the almost painfully comical sound of its wobbling oboes. I'm still not comfortable with the latter, but I find the intimacy of this performance unique and appealing. Liszt once derided this work as a "concerto without piano", but he might have changed his mind if he'd heard the likes of Ms Argerich. Her tremendous expressive range is perfectly suited to the extraordinary demands imposed on her by this mercurial composer - from the arresting drama of the opening bars to poetic grace of II to the joyously thrilling finale.
Both concertos were recorded in concert, but the audience was remarkably well behaved. The applause at the end has been excised for those who are bothered by such things. I have the same reservations about the diffuse acoustics of the Stefaniensaal in Graz (where both of these concertos were recorded) that Steve Haller expressed in his review of Harnoncourt's Schumann Symphony disc in the American Record Guide. But don't let that minor problem keep you from obtaining these spectacular performances of two of Schumann's most profound creations.
Copyright © 1998, Tom Godell