CD Review
Daphnis and Chloé (complete ballet)
Boléro
City of Birmingham Symphony Orchestra/Simon Rattle
EMI 74750 - 74min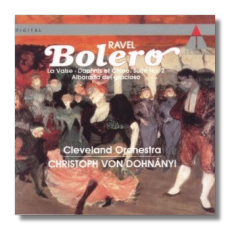 Alborada del Gracioso
La Valse
Daphnis and Chloé Suite 2
Boléro
Cleveland Orchestra/Christoph von Dohnányi
Teldec 97439 - 50min

Tombeau de Couperin
Pavane pour une infante defunte
Ma mère l'Oye
Claude Debussy: Sarabande; Danse (orch. Ravel)
St. Paul Chamber Orchestra/Hugh Wolff
Teldec 74006 - 62min
Just what the world needs - not one, but two new Boléros! While neither threatens Paul Paray's place at the top of the heap, Dohnányi at least gives us a memorable account of this thrice-familiar score. Unfortunately, the Cleveland Orchestra's snare drum is irritating, rather than insistent. It calls to mind the quaint sound of an old-fashioned, manual typewriter. What makes this version enjoyable nonetheless is the unique character and sense of enjoyment conveyed by each instrumental solo. Be sure to listen for the funky clarinet (played in Richard Stoltzman's jazziest style) and the suggestively sexy saxophone.
Rattle's Boléro is much slower (16:15 compared to Dohnányi's 14:10 or Paray's 13:24) and far less individual, though his snare drum is more refined. Still, Rattle's pedestrian phrasing - especially at the lackluster first entrance of the brasses - undernourished strings, and G-rated interpretation take this recording completely out of the running.
Rattle's complete Daphnis flows nicely, with a good sense of color, drama, and dynamic contrast. Part 3 (ie "Suite 2"), though, is unexpectedly restrained. In any event, comparison with Jean Martinon's classic EMI recording reveals just how ordinary Rattle can be in this music. Unlike Rattle, Martinon invests each phrase with drama and vitality, giving the score a shape and unity which reminds us why Ravel subtitled this ballet a "Choreographic Symphony." Martinon, too, is restrained in Part 3, but his approach makes dramatic and musical sense in the context of the ballet. Rattle merely runs out of steam.
Dohnányi gives a most effective, wonderfully atmospheric account of Suite 2. As in Boléro, the Cleveland's playing is especially memorable, from the shimmering percussion and full-bodied strings in Lever du jour to the expressive, lyrical flutes in the Pantomime. It's also good to have the wordless chorus here, which is too often omitted from recordings of the suite. The brasses snarl wonderfully in the Danse generale and the rhythms are powerfully articulated. La Valse may lack the last measure of Prussian menace (which Paray milked from the Detroit Symphony in his long out-of-print mono LP on Mercury ), but Dohnányi's recording does have lush sensuousness and oodles of charm. A lively, strongly-accented Alborada rounds out this very short (50 minute) program. Teldec's sound is rich and warm.
Hugh Wolff's disc begins with an abrupt, breathless, and clinical Tombeau that is all but immune to the score's many charms. His complete Mother Goose fares rather better, though the Prélude and four interludes that Ravel tacked on to the original suite (presumably to cover scene changes in performances of the ballet) have always sounded contrived and unnecessary, at least on records.Wolff's Tom Thumb appears totally exhausted from his lengthy hike, and the birds who steal his bread crumbs sound hopelessly unrealistic. On the other hand, Wolff's Fairy Garden is slow, stately, and brilliant. The two Debussy transcriptions are quite well done, and the over-played Pavane is especially touching. In contrast to the beautifsound of the Dohnányi disc, Teldec's engineers give Wolff a dry, clinical, and close-up recording, wherein the orchestra appears as if under an aural microscope.
To summarize, Rattle and Wolff have little to recommend them. Martinon is preferable in both Daphnis and Mother Goose. Paray is unequalled in Boléro and La Valse, and his Tombeau, though very brisk (over two minutes shorter than Wolff's), is deliciously enticing and seductive. Dohnányi gives effective accounts of four of Ravel's most beloved scores, and his disc is an easy recommendation - if you don't mind the limited playing time and that awful snare drum.
Copyright © 1995, Thomas Godell.
This review originally appeared in the American Record Guide