Concert Review
Peninsula Music Festival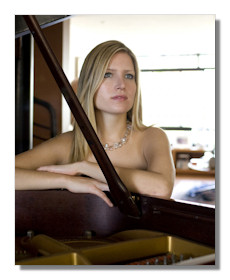 Gabriela Martinez, piano
Peninsula Music Festival Orchestra/Victor Yampolsky
Fish Creek Wisconsin, Door Community Auditorium, 19 August 2014
This concert featured one of the most brilliant pianists I have ever heard, in the Barber Piano Concerto, Gabriela Martinez. Before the concert, the conductor, Victor Yampolsky, said he wanted to perform this Pulitzer Prize winning concerto and to dedicate the performance to the memory of John Browning, who premiered it, and who was also on the search committee for his own appointment as Music Director of the Peninsula Music Festival. But he needed to find a pianist who was actually prepared to play this difficult work – very few are – and he was very happy to have found Martinez. She is from Venezuela, has no recordings I know of, but has played on four continents (and more cities that can easily be counted, but including New York) – under Dudamel, Lawrence Foster, James Conlon, Charles Dutoit and many other conductors. She has also played with Itzhak Perlman and the Takacs Quartet, among others. She won first prize and an audience award in Dresden at the Anton G. Rubenstein competition, and was a semifinalist in the Van Cliburn International Piano Competition, where she was awarded a Jury Discretionary Award. She is 30 years old.
Although she did not win the Van Cliburn Competition, Martinez's playing resembled nothing so much as the way I heard Van Cliburn himself play the Tchaikovsky concerto in New York after taking top place in Moscow: incredible power plus gentle expressivity. As it happens she is playing that very work the evening of this writing. Unfortunately I had not arranged to hear it. My seat was in a perfect place to watch her hands. Barber's rhythms are strong in the outer movements and he stacks a lot of notes, keeping all the pianist's finger busy. For the more lyrical sections, notably the middle movement of course, Martinez' graceful arm movements gave visual proof to the expressivity of her playing. The ovation at the end was one of the most tumultuous I have ever been part of – including yelling from an audience far from youthful
The concert opened with a thoroughly satisfying performance of Schubert's Unfinished Symphony – comparable to Bruno Walter's performance. I call it satisfying because under other eminent composers, including Colin Davis in Boston and others on CD, I have found my attention wandering. Not so with Walter or Yampolsky,
Following the intermission, the performance of concluding work, Sibelius' Fifth Symphony was good, but somewhat of an anticlimax after the previous performances.
The Peninsula Music festival is an annual three week event with three programs each week. Fish Creek is a major resort destination for Chicago residents, many of whom drive several hours each way on weekends or for vacation. The Festival is now in its 62nd year, was founded by Thor Johnson, conductor of the Cincinnati Symphony Orchestra, the first Music Director of the Ojai Music Festival in California, director of the Interlochen Arts Academy and conductor of its orchestra, and was a full professor at Northwestern University. Yampolsky is the Arthur L. Rice, Jr. Professor in Music performance at Northwestern. He is Music Director Emeritus of the Omaha Symphony and Honorary Director of the Scotia Festival of Music in Halifax, Nova Scotia, Canada.
Copyright © 2014, R. James Tobin