Concert Review
Second Annual Composers Institute Premiere Performances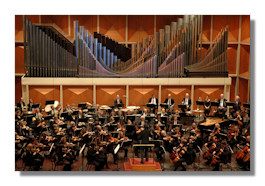 Paul Frucht: Relic
Emily Cooley: Green Go to Me
Chris Rogerson: A Single Candle
Nina C. Young: Fata Morgana
Milwaukee Symphony Orchestra/Jeffrey Milarsky
Milwaukee, Helene Zelazo Center for the Performing Arts, 25 October 2014
The Milwaukee Symphony undertook this program last year in response to the extended shutout of the Minnesota Orchestra, with which it has long been associated, and continued the project this year in partnership with the American Composers Forum and The University of Wisconsin-Milwaukee. An official of the American Composers Forum was in attendance to introduce each of the four composers chosen from a large number of applicants. All of them have received significant recognition and multiple awards – many more than will be named here. They are all richly deserving of further recognition. Of the four short works at this concert, none lasted over a quarter of an hour, I believe, though I failed to time the last work.
Jeffrey Milarsky recently received the Ditson's Conductor's Award, honoring conductors for a commitment to American music. Bernstein, Stokowski and James Levine were previous recipients. Milarsky has conducted several major American orchestras in programs of modern music. Next year he will conduct the New York Philharmonic in the CONTACT series featuring Japanese music.
Paul Frucht is currently a doctoral student at Juilliard, where he won no fewer than three prizes for composition. He also won an ASCAP Award and an NYU award for composition, among his other honors. Currently he also composer-in-residence at the pianoSonoma Festival, and he has a current commission from the New York City Ballet.
Emily Cooley has also won a string of awards and fellowships, including a Yale prize for excellence in the creative arts, the Aspen Music Festival's Jacob Druckman Award, and a Charles Ives Scholarship from the American Academy of Arts and letters. Among her teachers was Stephen Hartke. She has had a number of commissions and performances. She currently holds a composition fellowship at Curtis.
Chris Rogerson is currently Composer-in Residence for the Amarillo Symphony and is scheduled to be Composer-in Residence for the Ocean Reef Chamber Music Festival, both of which have involved commissions. Already, at age 26, he has been in residence at Yaddo and the MacDowell Colony and has a long list of other commissions and performances, some in distinguished venues (e.g. Carnegie Hall, Kennedy Center, and Chicago's Symphony Center.) Currently a doctoral candidate at Princeton, he also studied at Yale and Curtis, with Jennifer Higdon and Aaron Jay Kernis among his teachers. He is co-founder and artistic director of Kettle Corn New Music in New York City.
Nina C. Young studied at MIT and McGill University in Montreal, where she was a teaching assistant at the McGill Digital Composition Studios, and a research assistant at the Centre for Research in Music Media and Technology. She is completing her doctoral studies in composition at Columbia University. She teaches electronic music at the Columbia Computer Music Center. She has been a fellow at Aspen Music Festival, Tanglewood, Bennington, and elsewhere. At one of her numerous performances, the American Composers Orchestra's Underwood New Music Readings, she won the Audience Choice Award for her orchestral work Remnants.
The stated purpose of this recognition of emerging young composers is to provide an opportunity for them to hear and share, with an audience, performances of works written for a full symphony orchestra, something which tends to elude even more established composers. Accordingly, I shall focus first on their orchestration, and it seems especially fitting to begin with a work written for a single group of instruments. Young's Fata Morgana was originally presented by a group of brass players and for this performance expanded to take advantage of a full symphony orchestra. No program notes were provided for the pieces on this program, but notes about the composers' careers to date, and their brief comments at the concert give some hints about their divergent styles. In Young's case, it is written helpfully that she "writes music characterized by an acute sensitivity to tone color, manifested in aural images of vibrant, arresting immediacy. Her experience in the electronic studio informs her acoustic work, which takes as its given not melody and harmony, but sound itself, continuously metamorphosing from one state to another." Before the performance she commented on her title: Fata Morgana was a sorceress from the Arthurian legends who lured sailors to their death by creating a mirage. Not very nice, but the music is not so sinister! It does have a big crashing opening, reinforced by bass drum, heard later in a loud climax. There is a passage I would call haunting. A series of images is suggested with melodic fragments, perhaps mirage-like, and there are two chorales. Young made an effort to spatialize the instruments across the stage. There is a beautiful flute solo and wonderful use of the percussion section. The brass was given flowing melody. In short, her instrumentation was superb, and the work appealing in general.
Moving backwards this time, Rogerson's A Single Candle--a wonderful work incidentally--was a study of light in darkness, both harrowing and hopeful, inspired by a visit to the Anne Frank House in Amsterdam. It begins and ends pianissimo with a slow melody played by a solo cello (accompanied at the outset, if my no longer young ears did not betray me, by an even softer timpani ostinato). Later a solo trumpet took up the melody and a French horn, with bell raised, contributed what the Composers Forum interviewer described as "a marvelous melody." I would not argue with that. Rippling and shimmering sounds were augmented with a harp, and a loud climax was accentuated with a whip (a percussion instrument identified once by Benjamin Britten – seriously or tongue in cheek-- when asked what his favorite instrument was!) The woodwinds were effectively used also.
Emily Cooley's Green Go to Me (the title's meaning eluded me, unfortunately) was the shortest work on the program. It began with a clarinet solo and grew organically from there, as the composer remarked. The sounds included fluttering and tapping, as well as lush sonority. The lower strings became prominent halfway through, prior to a considerable increase in the dynamics. That passage was succeeded by one limited to a string quartet, then some quiet flowing melody at the conclusion. The composer notes characterized Cooley's style in general as ranging "from delicate intensity to a pulsing, energetic sound described as 'dramatic, forceful and filled with reverberation,'" in the words of the Sioux City Journal.
Paul Frucht's Relic opened the program. Frucht explained his title in terms of his attempts to reconnect with some older styles of music. He comes from Danbury Connecticut, where Charles Ives was from, and he acknowledges some influence from Ives, if I understood him correctly. Relic is a very high energy piece, rather percussive as I recall it, with a particularly loud climax. One passage in particular was notable for counterpoint of flowing melody counterpoised against staccato playing. I have to confess that it would require additional hearing of this piece before I could say anything helpful about its structure. The fact of its being first on the program might have something to do with that limitation of mine, though in a conversation with one of the violinists during intermission, the player confessed that after two rehearsals, it took the actual performance for the piece to come together for him.
Regrettably, I did not attend any of the rehearsals myself, but I can say that I enjoyed the entire concert tremendously and that all of these "emergent" composers already have an outstanding facility with writing for orchestra. They are all to be watched as their careers develop and, it is to be hoped, become well-known. It is also to be hoped that these pieces will receive at least second performances, which as has been noted more than once, can be harder than getting premiered.
Copyright © 2014, R. James Tobin
Author of Neoclassical Music in America: Voices of Clarity and Restraint
(Rowman & Littlefield, 2014)