CD Review
Songs and Arias
Zueignung, Op. 10 #1
Die Nacht, Op. 10 #3
Die Georgine, Op. 10 #4
Allerseelen, Op. 10 #8
Ständchen, Op. 17 #2
Wie sollten wir geheim sie halten, Op. 19 #4
Mein Herz ist stumm, mein Herz und mein Sinn, Op. 19 #6
Du meines Herzens Krönelein, Op. 21 #2
Ruhe, meine Seele, Op. 27 #1
Morgen, Op. 27 #4
Schlagende Herzen, Op. 29 #2
Meinem Kinde, Op. 37 #3
Leises Lied, Op. 39 #1
Befreit, Op. 39 #4
Wiegenlied, Op. 41 #1
In der Campagna, Op. 41 #2
Leise Lieder, Op. 41 #5
Blindenklage, Op. 56 #2
Gefunden, Op. 56 #1
3 Songs after Shakespeare's "Hamlet" - "Ophelia Lieder", Op. 67 #1-3
An die Nacht, Op. 68 #1
Säusle, liebe Myrthe!, Op. 68 #3
Ich wollt' ein Sträusslein binden, Op. 68 #2
Schlechtes Wetter, Op. 69 #5
Evelyn Lear, soprano
Erik Werba, piano
VAI 1080
Children's Songs from Around the World
Evelyn Lear, soprano
Thomas Stewart, baritone
Georg Fischer, piano
VAI 6090

Evelyn Lear & Thomas Stewart sing Wagner & Strauss
Arabella, Op. 79
Sie wollen mich heiraten
Das war sehr gut
Verführung "Der Tag, der schwüle", Op. 33/1
Gesang der Apollopriesterin "Es ist der Tag", Op. 33/2
Der fliegende Holländer (The Flying Dutchman), WWV 63: Die Frist ist um
Tannhäuser, WWV 70
Dich, teure Halle
O du mein holder Abendstern
Lohengrin, WWV 75: Einsam in trüben Tagen
Die Walküre (The Valkyrie), WWV 86b: Leb' wohl, du kühnes, herrliches Kind!
Evelyn Lear, soprano
Thomas Stewart, baritone
VAI 1011

Songs of Gambling and the Sea
Thomas Stewart, baritone
VAI 1122

Des Knaben Wunderhorn
Evelyn Lear, soprano
Thomas Stewart, baritone
VAI 1061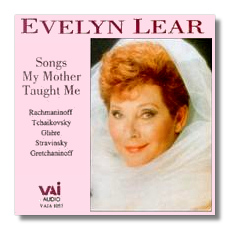 Songs My Mother Taught Me
Vocalise, Op. 34/14
Lilacs, Op. 21/5
The dream, Op. 8/5
Child, thou art as beautiful as a flower, Op. 8/2
I have grown fond of sorrow, Op. 8/4
Believe me not, friend, Op. 14/7
Spring waters, Op. 14/11
Again I am alone, Op. 26/9
Before my window, Op. 26/10
Georgian Song "Do not Sing, My Beauty", Op. 4/4
My Little Garden, Op. 54/4
Not a word, O my friend, Op. 6/2
It was in early spring "At the ball", Op. 38/2
So soon forgotten "L'oublié"
Amid the noise of the ball, Op. 38/3
Does the day reign?, Op. 47/6
Evening, Op. 46/1
Alexander Grechaninov:
Baju Bai, Op. 31/5
Ai du du, Op. 31/1
Friendly Star, Op. 12/2
Ah, Twine No Blossom, Op. 18/7
Igor Stravinsky: Pastorale
Anonymous: Song from the Crimea
Evelyn Lear, soprano
Thomas Stewart, baritone
VAI 1057

The Art of Evelyn Lear
Evelyn Lear, soprano
Hessischen Rundfunks Orchestra, Frankfurt/Dean Dixon
Bamberg Symphony Orchestra/Heinrich Hollreiser
Rotterdam Philharmonic Orchestra/Pierre Boulez
Vienna Philharmonic Orchestra/Karl Böhm
VAI 1159

A Celebration of Twentieth Century Song
Aria & Dança (Cantilena & Martelo) from Bachianas Brasileiras #5 #1 & 2
Serestas #7 "Cançao do carreiro"
Samuel Barber: Knoxville: Summer of 1915, Op. 24
Maurice Ravel: Shéhérazade
Alban Berg: 7 Early Songs
Evelyn Lear, soprano
Winfried Zillig, conductor
VAI 1049

Evelyn Lear Narrates
Evelyn Lear, narrator
James Tocco, piano
Carter Brey, cello
VAI 1050
I had almost forgotten about soprano Evelyn Lear and her husband, baritone Thomas Stewart, when a batch of their re-issued recordings arrived in the mail. Lear, born in Brooklyn in 1928, studied at Juilliard and made her debut at the Berlin Deutsche Opera in 1961; she created leading roles there and at the Met in a number of contemporary operas and became best known for her performances as Berg's Lulu and in Strauss operas (and his songs, in recital). Stewart is a Texan, also born in 1928 and a student at Juilliard, who sang regularly at Bayreuth from 1960 to 1975 and at the Met after 1966. These discs, recorded mostly in the 1960s and 70s in good sound, include all sorts of things: solo performances by Lear of 20th-century songs (VAI 1049), Russian songs (1057), Strauss lieder (1080), a recital of songs with orchestra by Berlioz, Spohr, Berg, and Strauss (1159), children's songs (6090) and (as narrator) performances of Poulenc's Babar and Satie's Sports et divertissements (1150); songs of gambling and the sea by Stewart (1122); and both together in Mahler's Des Knaben Wunderhorn (1061) and Wagner and Strauss arias (1011).
Lear's singing was notable above all for her musical intelligence. Her voice was not large, tending sometimes to break up a little under pressure, but it was pure and clearly delivered, a little weak at the bottom but radiant in the middle and upper registers. She had great skill in fusing word and phrases with the music, and her interpretations of the wide variety of material on these discs are distinctive and effective. The Russian songs (by Rachmaninoff, Tchaikovsky, and others, including a lovely and little-known "Pastorale" by Stravinsky, are very Slavic in feeling, and her Strauss lieder are equally idiomatic in capturing the flavor of fin-de-siècle Vienna.
Her version of Barber's Knoxville: Summer of 1915 doesn't convey its innocent nostalgia quite as well as Leontyne Price, but on the same disc, Berg's lovely and approachable Seven Early Songs, which have more depth and sincerity than the ersatz sentiment of many of Strauss's lieder, are beautifully delivered. In fact, everything here is presented with impressive understanding and artistry.
I am less impressed by Stewart. He had a big, dark voice, smoothly delivered but often with a considerable and displeasing vibrato; it was essentially lyrical in quality, and his efforts at dramatic fervor, at least as displayed on these discs, often result in more shouting than singing. But his Wagner and his sea chanties are vividly characterized and effectively sung. All in all, both singers deserve to be remembered for performances that are distinctive and rewarding, and I am glad to have them available once again.
Copyright © 1999, Alexander J. Morin