Concert Review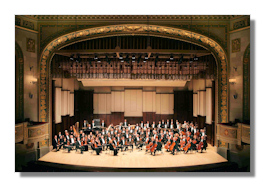 The Symphonies, Program 3
Egmont Overture, Op. 84 (1810)
Symphony #1 in C Major, Op. 21 (1800)
Symphony #6 "Pastoral" in F Major, Op. 68 (1808)
Detroit Symphony Orchestra/Leonard Slatkin
Orchestra Hall, Detroit, Michigan (14 February 2013)
Detroit's Beethoven festival rolled on with a mostly excellent third installment. In front of a slightly smaller and less enthusiastic crowd, the DSO and Slatkin largely delivered the goods in what has been no less than a revival of interest in the orchestra. The buzz that began last Friday with Symphonies 3 and 8 hasn't diminished, and patrons are genuinely excited about the rest of the festival and season. While the first half of the program took a small step backwards, the Sixth represents a performance that unquestionably is the finest I've heard from the DSO/Slatkin partnership
After a measured and forceful opening, the surprisingly traditional pacing of the overture fell into place. The DSO winds maintained their high standards – they have been stellar so far – and the strings and brass were equally imposing. For his part, Slatkin provided his usual plunge into the music's drama, then pushed the orchestra into a glorious conclusion that relied on dynamics and phrasing over sheer speed. An excellent performance.
I was less enthused about Slatkin's oddly fussy approach to the First symphony. After a promising opening from the reduced ensemble, and logically brisk tempos, something went amiss. The strings, which had shone in last Saturday's performance, sounded thin, and some of the pacing seemed too fast for the orchestra to stay in sync. Slatkin used unusually minimal gestures, but that didn't seem to aid in rhythmic precision. Indeed, the whole performance gave the impression that neither the conductor nor orchestra like the piece all that much, and maybe they don't. On the other hand, there were some nice touches. As he's done the entire festival, Slatkin brought out unusually dynamic details in this early work. As mentioned, the brisk tempos made sense on paper, and his experience – and excellence – as a Haydn conductor also were made clear. Were I rating the performance on a scale of 1-10, this probably gets a 7. It wasn't bad, it just didn't live up to what has been a parade of excellence.
That said, the Sixth symphony was a triumph. Rushing this symphony is a dangerous trap to fall in to, but thankfully "brisk" never translated to "rushed". The music had room to breathe, but flowed unlike any performance I've heard before. The first movement featured much improved strings, lovely rounded brass, and some absolutely glorious winds. In fact, the movement got better as it went, picking up steam so that by the middle point, the audience was silently captivated. Slatkin seemed to have thought very carefully about orchestral balance, because seldom have I heard the ensemble so perfectly unified in a conception.
So beautiful was the second movement that it was a wonder that we all got through it. Countless great recordings of the work come to mind as I write, and Slatkin's effortless, flowing performance rivals any of them. Here, the DSO strings played with a sound that I doubt they've shown off since Doráti's Decca recordings. The winds glowed in a way that I literally had thought could only be on CD. It was a mesmerizing and captivating experience that did every one of the orchestra's principal players proud. It seemed to be captured in one breath, with a richness and warmth that had to be heard to be believed. Stunning.
A bouncy scherzo let down only by some slightly labored horn playing led right into an unusually vivid storm. Again seemingly taken in a single musical breath, the DSO thundered to life while never allowing the textures to turn mushy. Swift and clear, it not only fit entirely within the interpretation at hand, but also made sure that the storm never turned dull. I've read that of all the musical storms out there, this is one of the least convincing. That's quite possibly true, but this performance made it worth hearing.
After all the noise dies down, Beethoven gives us his most beautiful symphonic finale, and the DSO made good on its reputation as a world-class ensemble. I will admit that I raised my eyebrows at Slatkin's swift tempo coming out of the storm, but his orchestra clearly believed in what he was doing. More importantly, the ensemble gave 100 percent in a drop-dead gorgeous final movement. Warm, silky strings supported even more delightful wind playing. And the horns shone here, seamlessly arching into the orchestral texture. Throughout the entire symphony, Leonard Slatkin seemed far more animated and engaged than during the First. Taken as a whole, the concert probably ranks below last Saturday's performance of Symphonies 4 and 5, but the Sixth shines as an outstanding achievement.
For the first time in 36 years, a rebuilding orchestra is tackling the Beethoven canon. While I had serious reservations about the festival, every concert is further reviving the ensemble. Credit is due to Leonard Slatkin for understanding the potential impact of such an undertaking, and to him and the orchestra for bringing what is clearly a cogent vision of all nine works. As these concerts draw to a close, there is a genuine sense of excitement around Orchestra Hall. I have no doubt now that the remaining performances will bring the festival to a most satisfying conclusion.
Copyright © 2013, Brian Wigman