Concert Review
Bring it Brass!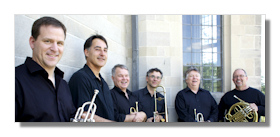 Canzona per Sonare #27
Canzon Primi Toni à 8
Anthony Plog: Music for Brass Octet
Verne Reynolds: Suite for Brass Quintet
Henry Cowell: Tall Tales
Derek Bourgeois: Concerto Grosso
Raymond Premru:
Blues March from Divertimento for Ten Brass
Brass Players of the Detroit Chamber Winds & Strings/Professor Tim Weiss
First United Methodist Church of Birmingham, Michigan (17 February 2013)
The First United Methodist Church of Birmingham proved an ideal venue for this adventurous and challenging program of brass pieces. Unlike many brass concerts, all these pieces were originally written for brass instruments instead of a hodgepodge of arrangements. This turned out to be an excellent choice, as the players seemingly relished the opportunity to explore their repertoire. The DCWS roster is made up of professional players from the surrounding area, some of them from the Detroit Symphony and Michigan Opera Theatre. Regardless of background, they were unfailingly superb.
Realistically, an all-brass program can easily be fatiguing on the ear. A program has to have a genuine sense of artistic and dynamic diversity to prevent the audience and players alike from tiring. In that sense, these players excelled. Not only did they adapt easily to the various styles and moods on the program, but they also allowed a huge range of dynamics – unusual for brass – that made the afternoon so memorable.
The concert was largely contemporary in nature, flanked at its beginning and end by two excellent Gabrieli pieces. The first major work was Anthony Plog's Music for Brass Octet. This is a strange work, with a jaunty opening section, a warm chorale, and a somewhat messy final movement which nevertheless sports a glorious conclusion. Played with total conviction, this difficult piece pushed the players to their limits. Tim Weiss deserves credit for keeping everything flowing so smoothly.
According to Weiss and his colleagues, Verne Reynolds hated his Brass Quintet, later removing it from circulation. Thank goodness that the DCWS has a copy from his Eastman days. What he could have disliked is completely unknown to me, for it's a wonderful work that surely deserves genuine exposure. Less thorny than the Plog, it is a carefully considered piece that requires the players to listen carefully to each other and blend. The players responded with a deep and heartfelt rendition. Whatever the composer's reservations, this ensemble clearly believes in this music.
Following that was a lovely little piece by Henry Cowell. Cowell was never known perhaps for writing lovely pieces, but this doesn't sound much like his later work anyways. It really sounds quite a bit like Copland, and that's not a bad thing. After the two heavier pieces, it provided an ideal palette cleanser. Simple as it is, it has terrific command of the idiom, and remained true to the spirit of the program. The mini-lecture on Cowell that preceded the work was highly informative and entertaining.
The last major work was a commission from the Philip Jones Brass Ensemble. Much as I love that ensemble and respect the numerous posts that Bourgeois has held in England, I still don't know how I feel about this "Concerto Grosso". Whether it actually qualifies as one of those is beyond me, but this lengthy work seems to be all over the place. Some jazz here, baroque echoes there, and Stravinsky-like sounds in between. It's either crazy or a masterpiece. Whatever the case, the DCWS loved playing it, the capacity audience was thrilled, and it was a fitting end to an excellent program. The little "Blues March" sent us all home smiling.
The Brass of the DCWS and Tim Weiss should be commended for presenting such an adventurous brass program. Audience reaction was entirely positive, and I can only add that generally I am not a fan of so much brass at once. However, a brass ensemble that is willing to pay careful attention to dynamics, phrasing, and repertoire can create a very special afternoon. And so, a special afternoon was had by all. I eagerly look forward to hearing more from the best musicians that the area has to offer.
Copyright © 2013, Brian Wigman