Concert Review
The New York Philharmonic in Ann Arbor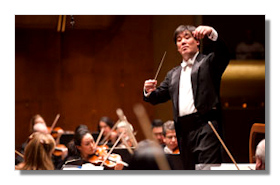 Wolfgang Mozart:
Overture "The Marriage of Figaro"
Symphony #36 "Linz"
Johannes Brahms: Symphony #1
New York Philharmonic Orchestra/Alan Gilbert
Hill Auditorium, Ann Arbor, Michigan
(22 February 2013)
Hill Auditorium in Ann Arbor, Michigan is a huge venue designed by the great Albert Kahn and his associates. It is also a terrific acoustic space that works wonders for artistic performances. A full house of over 3,500 welcomed the New York Philharmonic to town. The Philharmonic had been away for over sixteen years, and so there was a sense of excitement brought to a hall which celebrates 100 years this season and had already hosted the Chicago Symphony last fall. Alan Gilbert is a tremendous source of excitement for the classical music industry. Young, gifted, and a native son of New York, he is a joy to watch and listen to. He also has a wide range of pieces he can present on any given evening, and with absolute conviction. None of his predecessors were especially known for Classical period repertoire (excepting Bernstein in Haydn), so I was curious to how the Philharmonic would respond to the program. The answer? Marvelously.
Scaled down to better suit the Mozart's style, the orchestra delivered an exceptionally fine overture to the Marriage of Figaro. It's a great deal of fun to hear one of America's great orchestras sound so quick on their feet. Dead-on entrances and some nimbly dancing winds set the stage for the evening. At near ideal tempos – neither slow nor rushed – Gilbert clearly had command of his forces. The second piece on the program was also Mozart, and Gilbert again proved a master with the same reduced group. A daringly swift opening led into a tremendously well phrased opening movement. The orchestra dazzled with quicksilver runs and alert responses. The inner movements impressed by virtue of some unbelievable strings and winds, with tempos that never dragged or became inert. Mozart's work – in my view, mind – lives or dies on how you phrase his often predictable lines. Phrase them without energy, and the result bores. But if they are played with the kind of natural warmth and touch of fire as here, then the genius is indisputable. By refusing to rush the finale and yet maintain modern scholarship in regards to tempo, Gilbert crafted a very satisfying finale. Again, the impression of lightness was incredibly welcome, and the Philharmonic clearly enjoyed finishing off an excellent first half of the program.
After intermission came Brahms First symphony, a massive work on the scale of Beethoven's Eroica. It's not as sunny as his Second symphony, difficult as his Third, or accessible as his Fourth, and yet remains a cornerstone of the Romantic canon. Indeed, one of the great challenges in conducting Brahms is having the ability to look forward to the Romantics with one foot firmly in the Classical period. Furthermore, Brahms symphonic writing can be very heavy, and thus requires an orchestra and conductor able to navigate through difficult textures while still making beautiful sounds. A third challenge concerns tempo. Brahms is not Beethoven, and there are fewer approaches that one can take successfully outside of the traditional sound expected. Thus, the First in particular needs total commitment, flowing tempos to keep it moving, and a willingness to go through the various moods of the piece.
The New York Philharmonic could probably do all this while sleeping, but Alan Gilbert made sure that the ensemble was on high alert. Using every player at his disposal – Gilbert is no Charles Mackerras – he conjured a huge sound from his orchestra, with incredible playing from every section. Strings in particular made lovely sounds throughout, but each member of the orchestra contributed to a totally committed reading that seethed with drama. Gilbert for his part was charged up, throwing every bit of himself into the piece. Transitions in Brahms can be difficult, yet every bar flowed naturally with flawless execution. A performance that gathered steam as it progressed, the finale let loose the full glory of the orchestra, with absolutely jaw-dropping strings and brass. The full house was thrilled, prompting the same composer's Hungarian Dance #6 as a delicious encore.
As Hill Auditorium celebrates 100 years, it will also host Anne Sophie Mutter, Yo-Yo Ma and others. Based on this program, there is much to look forward to as well as looking back. What a treat to have this incredible orchestra on hand to celebrate 100 years of great art at Hill. UMS deserves our thanks and much credit. I look forward to continuing to celebrate a great institution, and great performances.
Copyright © 2013, Brian Wigman