Concert Review
Frühbeck de Burgos in Detroit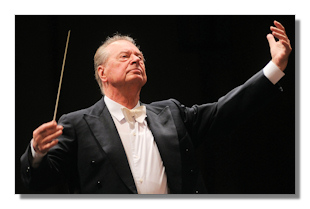 Detroit Symphony Orchestra/Rafael Frühbeck de Burgos
Detroit, Orchestra Hall, 16 March 2013
To celebrate the 100 th anniversary of the epochal Rite of Spring, Detroit welcomed underrated talent Rafael Frühbeck de Burgos, to lead two exceptional performances of these orchestral blockbusters. Despite the conductor's physical frailty, his interpretative powers are simply astounding. Since guest conductors are rare in Detroit as of late, every such appearance needs to be considered an event. And an event it was, a staggering achievement of orchestral glory that deserved acclaim and our thanks.
The Dvořák Eighth is certainly one of the composer's finest achievements of any kind, and Frühbeck de Burgos played conducted with undoubted conviction. The Detroit Symphony responded with some of its finest playing since the beginning of the decade. Strings soared gloriously, winds danced, and every last ounce of possible drama was wrung out of this masterful score. Frühbeck de Burgos seemed energized by the quality of sound around him, even rising from his chair to conduct some of the work's unexpectedly powerful climaxes.
Realistically, this symphony lives or dies on great playing, and the DSO delivered. Outer movements blazed with rhythmic snap, while inner movements flowed effortlessly without ever turning too placid. Credit new Concertmaster Yoonshin Song for restoring the ensemble's fabled string sound. The DSO has run through an adventurous set of programs, and each has shown marked improvement in ensemble from almost every section. In such a lush work that is dominated by strings and winds, these strides manifested themselves in spades. Certainly the presence of a podium master seemed to galvanize the collective whole, and the standing ovation that followed was well deserved.
After intermission, a carefully constructed Rite of Spring concluded the program. It's easy to forget 100 years on just how shocking this work was, but the conductors' attention to detail allowed every nuance to come through. The Rite really is an extraordinary score, one that should grab the attention of every concertgoer. Frühbeck de Burgos deserves credit for balancing the work so well. Tempos were never unduly fast, which in turn promoted an exceptional textural clarity. Indeed, the conductor's vision reminded me most of Robert Craft, a longtime associate of the composer himself who has recorded the work at least twice. This x-ray approach also works wonder in an acoustic space such as Orchestra Hall, where clear textures simply spotlight every revolutionary detail on display.
Part One was less successful on the whole than Part Two, in large part because the analytical approach inevitably downplays some of the excitement found in more blazing renditions. But Frühbeck de Burgos' choices paid huge dividends in Part Two, where a revved up DSO followed the maestro's every whim. Climaxes were simply stunning and each section of the orchestra was nothing less than world-class. In the early stages of the work I was troubled by some iffy brass playing – 2013 has not been a good year so far – but the virtuosity of the strings was undeniable and the crucial wind parts were equally accomplished. Through it all, Frühbeck de Burgos was the clear leader, treating the piece as a musical discourse as opposed to a showpiece. As this was a celebration of the work, I believe the right choice was made. After both works, the audience and orchestra showered the frail maestro with enthusiastic praise. It is a testament to both Frühbeck de Burgos and Music Director Leonard Slatkin that the DSO should have gifted us with such a fine concert. I can't think of a better way to celebrate the glories of one of Western music's true milestones. Bravo, to everyone involved.
Copyright © 2013, Brian Wigman