Concert Review
The Detroit Symphony at Orchestra Hall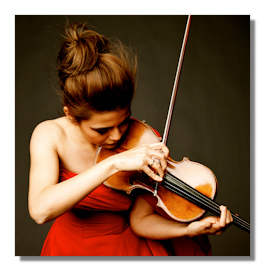 Ricercare #2 from Musical Offering
Violin Concerto, Op. 15
Symphony #41 "Jupiter"
Karen Gomyo, violin
Detroit Symphony Orchestra/Andrew Grams
Detroit, Michigan, Orchestra Hall, 6 April 2013
Although an unusual program at first glance, the mix of dynamic young conductor and violinist created a magical evening. Leonard Slatkin's several weeks away from the podium have been eye opening, not because the quality of guest artists have been so good, but because the entire season is a tribute to Slatkin's sizeable gifts, Since taking on the Beethoven symphonies and overtures early this year, the artistic standards of the house have risen considerably. Slatkin, who is music director, deserves much credit for this exceptional sound, as does new concertmistress Yoonshin Song, who has cultivated a breathtaking string section in her brief tenure.
But credit needs to also be given to the aforementioned guest artists, who have appeared galvanized and excited by the venue that is Orchestra Hall. Certainly Maestro Grams is one to watch; a young and energetic conductor who seems to have a wide range of musical sympathies. The Webern/Bach transcription seemed to me a shade stiff, yet Grams gave this uniquely modern look at Bach a nice sense of drama at the end. The polite yet puzzled reaction gave hint that not only was the music unexpected, but that 12-tone music still confuses us even now.
Yet it actually set the tone very nicely for the Britten Violin Concerto, a staggering modern masterpiece that has very few real champions because it is both very difficult and also ends quietly, a difficult combination for a concerto. Karen Gomyo is a fine young virtuoso, with an assured and confident technique. Britten's writing can get very thorny in a hurry, and Gomyo simply played the daylights out of the piece. Special note goes to her effortless cadenzas and richness of tone. In short, there's very little she cannot do on her instrument, and she deserved the very warm ovation afterwards. The orchestra under Grams provided a simply masterful canvas, with exceptional work from all sections and a fine grasp of the composer's idiom.
I was somewhat concerned that after all that modernism, that Mozart was perhaps an incorrect choice. I need not have worried. Although I don't really see the Detroit Symphony as a Mozart orchestra, this performance of the great composer's final symphony was terrific. It's clear that Maestro Grams is as comfortable here as in the 20th century, for his attention to detail and phrasing was really very impressive. The wind playing that has so thrilled me throughout this season continued to shine, and everyone else was equally committed. Crisp, clean phrasing embraced both the glories of the traditional orchestral sound and the sensibilities of modern scholarship. Grams seemed to like this piece very much, as he was generous with his directions and the orchestra was keenly responsive.
The 2013 season has done much to recover the storied (and oft-recorded) sound of the Detroit Symphony. I have had the honor of covering most of the latter half of the year, and the word is consistency. The orchestra has found a groove, delivering quality results on a week by week basis. Each section has been distinguished by playing that is undoubtedly world-class. As the Detroit Symphony moves further and further away from their painful strike season, they are confidently entering a new era. Music lovers here have much to be thankful for!
Copyright © 2013, Brian Wigman