Concert Review
The Takács Quartet Performs at Rackham Auditorium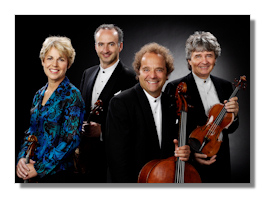 String Quartet #63 in B Flat Major
String Quartet #3, Op. 94
String Quartet #14 in C Sharp minor, Op. 131
Takács Quartet
Ann Arbor, Michigan, Rackham Auditorium, 12 April 2013
After the massive, somewhat overwhelming (but still excellent) Magnum Opus of Milhaud a week earlier, the intimate sounds of chamber music seemed a relief. Yet even in – or should I say especially in – chamber music you will find music that is unsettling, ambiguous, and deeply personal. The Takács Quartet has graced the stages of Ann Arbor many times, and they remain one of the finest quartets in the world. Having chosen repertoire that explored their enormous interpretative range, they provided as fine a musical evening as one has the right to expect.
I've always felt Haydn to be a bit underrated, but few would doubt his skills in the genre of the quartet. The work is sunny, but by no means lightweight; the writing is masterful as ever. The Takács, who have made their name in Beethoven and the Romantics, showed that they have equal affinity for Haydn. The interplay seemed effortless, light. One sensed that they were having as much fun playing as we were in listening. It seemed an ideal curtain raiser, and settled in the appreciative audience for more.
Going from Haydn to Britten may seem a challenge, and in some ways it was. It was thus appreciated then, that the quartet took some time to immerse us in Britten's entirely different artistic vision. If the Haydn pleased by its' sunny disposition, then the Britten pleased by questioning and puzzling. The composers' Third Quartet is easily a masterpiece in 20th-Century quartet writing, as much for the sounds it asks the players to make as for the questions it musically raises. The Takács delivered an intensely personal vision of the piece, allowing the work to be open-ended, as it must be. Again, technique and phrasing were exceptional, and it was a fitting nod to the composers' centennial celebration.
Following intermission, the evening was closed with an exceptional Beethoven Quartet. While I had the honor to review the Beethoven Festival in Detroit this winter, I am always amazed at how innovative his chamber music is as well. The Takács have already recorded an exceptional Beethoven Quartet cycle for Decca, and their prowess in this music is undisputed. The C-minor quartet is a huge work played without interruption. It requires not only stamina and virtuosity, but also a keen attention to dynamics and details. Certainly the Takács are more than capable of all those attributes, and they gave us a highly charged and musically satisfying rendition worthy of comparison to their famous studio efforts. Thanks to University Musical Society, Michigan audiences have the chance to hear the finest ensembles in the world. This night was simply a reminder of how great.
Copyright © 2013, Brian Wigman