Concert Review
The Detroit Symphony Plays Holst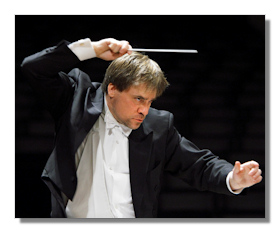 * Rafał Blechacz, piano
** Women of the Michigan State University Chorale & State Singers
Detroit Symphony Orchestra/John Storgårds
Detroit. MI, Orchestra Hall, 4 May 2013
From a purely technical standpoint, a packed house witnessed the apex of the 2012-2013 season. Playing was first-class the entire evening, and the audience was highly enthusiastic. Young John Storgårds was the final guest conductor of the season, and he led the Detroit Symphony in highly charged and excitable performances.
Opening the program with Ligeti's unique sounds was an inspired idea. If the Planets is all about atmosphere, then Ligeti trumps Holst with an eerie, dissonant exploration of music itself. It's difficult to even write about, but needless to say it stands as both a very odd work and yet a masterpiece. It seemingly has no structure, but that's a lie; Ligeti clearly understands the sounds he wants to make here, and what an orchestra must do to execute it. So too did Storgårds, who made the composer's intentions uncommonly clear, and was rewarded with some very confident playing from the orchestra. The audience responded with typical politeness to such an odd piece, but it set up the Holst suite very nicely.
But before intermission, Rafał Blechacz took center stage for Chopin's Piano Concerto #2. These concertos are often maligned and even ignored; the piano writing is of course fabulous, but the orchestrations would make Schumann blush. Few conductors even take the time to imbue the orchestral backdrop with any depth of feeling, and a dull pianist can kill the entire affair. Thank God for Storgårds and Blechacz then, who made the piece well worth hearing. The conductor's carefully-considered, sharply-etched accompaniment set the stage for his soloist's confident and effortless pianism. The first movement was bold and purposeful, the second utterly gorgeous in both conception and execution, and the third a joyous and delightful romp to the finish. Throughout, Blechacz played with a rich tone and real feeling for the composer's work. The Detroit Symphony, which shone for Lynn Harrell a week previous, again dazzled here. The reception was thunderous and very well earned.
Storgårds' reputation rests currently on modern music, and his performance of the Holst was just as satisfying as the Ligeti. The young conductor led his charges in a throttling rendition of the Planets. Mars was on the slow side, but carried enormous weight. The woodwinds, who have done nothing but shine all season, made something special out of Venus and Mercury. Storgårds' ideas for Jupiter were refreshing, he refused to milk the famous theme, and he also refused to rush. The final movements satisfied with a huge dynamic range and excellent singing from the chorus. It wasn't the most subtle Planets ever, or even the most personal. However, Storgårds drew a massive sound from the orchestra, and secured excellent playing from all sections. Both here and in the Chopin there were moments of rhythmic disagreement, but that could hardly detract from what has to rank as one of the best performances of the year. Bravo!
Copyright © 2013, Brian Wigman