Concert Review
Rossini, Mozart, and Rimsky-Korsakoff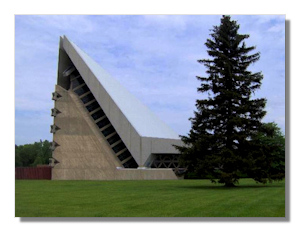 Joseph Peters, oboe
Detroit Symphony Orchestra/Teddy Abrams
Southfield, Michigan, Congregation Shaarey Zedek, 6 June 2013
The largest crowd ever recorded for the Detroit Symphony's "Neighborhood Concert Series" cheered on their hometown orchestra in a familiar but nonetheless exceptional program. Teddy Abrams is young and excitable, but yielded a firm hand in directing this final program of the 2012-2013 season.
I confess, the Rossini overture that opened the program is one of my very favorite pieces. Composed in a span of a few hours, it's easily the best part of this opera, which never gets staged with good reason. Everyone from Abrams himself, to the Symphony's program note author Charles Greenwell admits that the plot is silly to the extreme. The overture has all of the composer's finest qualities though, an exceptionally colorful and virtuosic romp. Abrams is really good at this kind of thing; he's clearly very comfortable in Romantic repertoire, and he likes showing off his charges. In turn, the Detroit players responded with their usual enthusiasm, and then some. Winds continued to be a major asset, as they stole the show. This wonderful Southfield venue does not, to my ears at least, flatter the strings, but that only made the other orchestral contributions all the more valuable.
I won't even pretend that Teddy Abrams waits with bated breath for my reviews, but my last comments regarding his art lamented his skill in Mozart. That performance of Mozart's Flute Concerto was stiff and uninspiring despite excellent solo work from new Principal David Buck. My quip about my own writing makes some sense when you consider just how much better Abrams responded to the same composer's Oboe Concerto. Perhaps working with an old colleague – Peters worked with Abrams at the New World Symphony – was helpful, but at any rate, this was vastly superior. Nearly every one of my previous complaints were addressed, and even Abrams conducting technique seemed more relaxed. I'm still not crazy about this orchestra or conductor in Mozart, but Joseph Peters is undeniably talented, and the DSO played well.
Back on ground that he's happy with, Abrams delivered a marvelous Schéhérazade. The piece thrives on color and energy, and that's something the young maestro can deliver in spades. Excellent winds and strings have been a hallmark of this season, but the bright and confident brass playing was a pleasant surprise. Once again, balances were a touch askew, and one got the impression that the young conductors' vision was a touch raw. Abrams seems to come from the new school of "play the heck out of it", which is plausibly what makes his Romantic potboilers so successful. But it was very well done by any measure, and capped a worthy end to a fine season.
Copyright © 2013, Brian Wigman