Concert Review
Teenage Piano Prodigy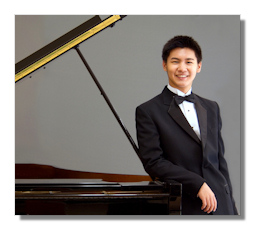 * Conrad Tao, piano
Leonard Slatkin/Detroit Symphony Orchestra
Detroit Orchestra Hall, 11 October 2013
An exciting and entirely worthwhile program, highlighted by the young Chinese-American pianist Conrad Tao. Tao previously brought Saint-Saéns Second Piano Concerto to Orchestra Hall, and now moved on to tackle early Beethoven. None of the composers' concertos – save for a one-night reading of the "Emperor" concerto with the Detroit Symphony Civic Ensembles and Emmanuel Ax – featured in the Detroit Symphony's justly acclaimed Beethoven Festival. None other than Andrew Davis last featured the concerto on a program as a guest conductor in the early 1990's, so there were many reasons why the piece was so welcome.
Welcome too was the Orchestra's first go at the Copland, a fun little set of pieces in the great American composer's populist style. The fact that this was a Detroit Symphony premiere came as a genuine surprise, as previous music directors as diverse as Doráti and Jarvi had a commitment to Copland's music, recording it successfully in this very hall. Slatkin conducted very well, keeping everyone together and bringing a sense of fun and occasion to these miniatures. Doubtless this will feature in the next installment of the orchestra's Copland series on Naxos, and while I miss some of Slatkin's earlier alacrity in this music (on EMI and RCA), I don't think there's any question that this will translate well to disc. This got the concert rolling, and set the stage for Conrad Tao.
Tao can play anything, and the question wasn't so much whether Beethoven's first concerto for piano would pose any challenges, but how would Tao respond to the works' Classical period leanings. In many ways, it is like the aforementioned Saint-Saéns, a work that is daring and inventive, but also looks back to the past. Tao played wonderfully. The first movement carried unusual weight, with Tao and Slatkin choosing a more traditional approach despite reduced orchestral forces. What a dazzling, breathtaking cadenza, for me the clear apex of the entire movement. But everything was great, supported by the Detroit winds and strings, perhaps the strongest sections of the entire orchestra. A lovely, flowing slow movement led to an urgently forceful finale, in which Tao showed every bit of his technical power. A winner of a performance,
Before we get to the Tchaikovsky which comprised the program's second half, I need to point out that I generally frown on the same pieces being played over and over again, and it seems like the Tchaikovsky 5th is one of those pieces right now for the Detroit Symphony Orchestra, having featured on the last few seasons . A Tchaikovsky cycle is also being planned here, which might mean we hear it again next year. Or perhaps the microphones preserved this one, and we'll be spared that. I hope that they did, too, because now that my rant is out of the way, I want to make clear that this was one of the finest performances taken as a whole that I've ever heard at the Hall. Slatkin isn't young (sorry, Leonard), isn't flashy, and doesn't do things with music that make him seem any more important than what he's leading. This doesn't always work in his favor, not with hotshot young conductors trotting the globe. That doesn't mean that he isn't better than most of them, and if I originally thought upon his appointment that his best days were behind them, he's certainly making a fool out of me now. Balances were exceptional, with gorgeous contributions from every section, and a really natural understanding of tempo. In the wrong hands, this clunky piece can be a clunker. Not here. Lovely strings and assertive – but never harsh – brass allowed the music to speak for itself. Standout moments included a very delicately phrased third movement waltz and an explosive and entirely convincing finale. The applause was thunderous, and rightfully so.
All in all, this was a wonderful evening. And to think, there's so many more concerts to go! Nights like these go a long way in restoring my faith in the future of classical music, and in my hometown orchestra. Bravo!
Copyright © 2013, Brian Wigman