Concert Review
Benjamin Britten Centennial!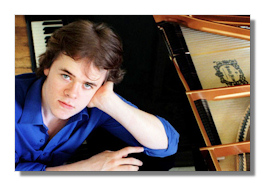 * Benjamin Grosvenor, piano
Detroit Symphony Orchestra/Teddy Abrams
Detroit Orchestra Hall, 26 October 2013
Originally, this program was called "Benjamin Britten Centennial". Then it was simply titled "La Mer." And suddenly, the Detroit Symphony has taken to calling the weekend "Teddy Abrams Conducts". Who exactly is this supposed to serve, and more importantly, which title indicates what is going on here? Yes, this is a Britten year. And yes, it is Abrams subscription concert debut, as well as a concert that features La Mer. But frankly, it didn't really live up to any of its three names, which is a shame. Certainly I've spoken at length about conductor Teddy Abrams' abilities on the podium, and they remain considerable. Certainly it seems that the Detroit Symphony respects him. Whether they enjoy playing with him, or whether he has the confidence to lead is another question entirely. Leonard Slatkin had set a very high bar in the season's first few weeks, a bar that on technical grounds alone continues to climb. From an interpretative standpoint, Saturday was a significant step backwards.
The program started with a typically brash and exciting stab at the Wagner overture. Like most of the program, it just doesn't get played all that often, and since the full opera is playing at the Detroit Opera House, this is a nice nod to a fellow cultural fixture. Additionally, the vast improvements in the Symphony's brass section continue to be a standout in the early going. This is a piece that plays to Abrams' strengths; a mostly loud, mostly fast, and mostly wonderful piece of music that doesn't require a ton of energy beyond excellent playing and enthusiasm. So this was a winner.
The following Britten concerto was a loser, though. The Detroit Symphony had never played it to this point, and despite what Abrams' had to say on the matter, it probably could have stayed that way. It's not a bad piece, but it simply wasn't especially enjoyable. Abrams has a long way to go before he's a reliable concerto partner, but for his part, Grosvenor doesn't seem to like the piece all that much. The piece does very little to highlight Britten's compositional genius, there is little of interest or imagination for the orchestra to do, and in Grosvenor's hands, sounded like a Prokofiev knockoff. I hate to be so critical, but the tepid response around the hall spoke volumes. The Detroit Symphony brought a professional, joyless framework to the occasion. A dud.
The two pieces following intermission showed the pros and cons of the Abrams experience. Jean Sibelius' Oceanides is almost never played, so it was welcome. And the orchestra again played very well. But here again, Abrams' youth and enthusiasm failed to serve him. The piece came off as stiff and clunky, with a notable lack of flow. And the players seemed not to be on the same page. Several times, I saw the conductor swell his arms forward for a glowing climax, only to hear no dynamic change on the other end. This lack of communication made sure that a potentially great performance was merely good. Why? The Sibelius simply did not play enough to the young maestro's fortes, and suffered as a result.
La Mer is a masterpiece that certainly does offer the chance to fire on all cylinders, and for that reason, the final two movements of the piece were thrilling. As long as the music is fast and loud, Abrams is your man. He reminds me of Gustavo Dudamel in this regard. Alas, it also meant that the first movement suffered as the Sibelius had, with an unyielding pulse and without a natural sense of flow. I listened to at least five versions of the piece, and every one had a distinctive first movement that actually felt like the sea. This did not. As for the remainder, it was exciting and virtuosic…but is this Debussy? I mean, sure, you don't want to play Debussy like impressionistic fluff anymore. But playing it in a driven, colorless manner is almost as bad. To make matters worse, balances were askew in the second half, with way too much sound from the brass and (ugh!) the harps. All in all, a superficially charged end to an uneven conception.
I'm well aware that I sound very critical here. The Detroit Orchestra continues to play with an exceptional quality. Abrams' work in the community, willingness to travel, youth, and love of music also make him a valuable asset. But the problem is this; as Slatkin and his guest conductors continue to re-shape the sound of this ensemble, both live and on record, excellence will come to be an expectation as opposed to a surprise. The balance issues here – issues I have previously noted away from Orchestra Hall – are simply inexcusable in an acoustic like this. So this is a solid subscription concert. Ideally, you want more.
Copyright © 2013, Brian Wigman