Concert Review
Wolfgang & Wonderland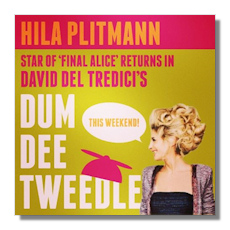 Wolfgang Mozart: Violin Concerto #2 *
David Del Tredici: Dum Dee Tweedle (World Premiere)
* Yoonshin Song, violin
Hila Plitmann, soprano
Re'ut Ben-Ze'ev, mezzo soprano
Scott Ramsay, tenor
Michael Kelly, baritone
Alexandra Silber, narrator
Wayne State University Symphonic Choir/Norah Duncan IV
Detroit Symphony Orchestra/Leonard Slatkin
Detroit Orchestra Hall, 30 November 2013
A massive and adventurous program followed the Thanksgiving holiday in downtown Detroit, with both pieces appearing for the first time at the Detroit Symphony. In fact, the De Tredici had never been heard anywhere, despite the 1995 composition date. The New York City opera had performed parts of it previously, but the entire 80-minute opera proved to be both personal and satisfying.
I don't know how the Mozart 2nd Violin Concerto could possibly be making its first appearance with this orchestra, but any excuse to hear Yoonshin Song is a good excuse. Her tone was lovely here, with a firm sense of classical poise and elegance. The slow movement was – as expected – gorgeous, and all of the cadenzas were deftly and effortlessly dispatched. Slatkin and the orchestra provided solid, if rather unexceptional support. But such is the case with so many Mozart concerto performances that it seems silly to complain further. We in Detroit are very thankful to have Yoonshin Song and her talents here.
The concerto probably would have been the main course on many evenings, but David Del Tredici's Dum Dee Tweedle relegated it to appetizer status. Actually, the work reminded me quite a bit of a Thanksgiving dinner; magnificent in size and spectacle, and full of things to enjoy. Sadly, the negatives of such a feast applied as well, because at the end, you had the feeling that you might have just had a little too much. For better or worse, Dum Dee Tweedle is an inventive and really extraordinary take on Lewis Carroll's Through the Looking Glass. Del Tredici stretches the imagination, musical boundaries, and even gender roles (the "brothers" are played by one man, one woman).
The work is simply massive; the choral forces of Wayne State are huge, and the full roster of the Detroit orchestra was on hand. In addition to soloists, there is also a narrator. Directing all this with the utmost confidence and skill was Music Director Leonard Slatkin, who also directed the composer's Final Alice – also based on Carroll – last March with the same orchestral forces. Hila Plitmann played Alice then, and she was arguably the highlight of the entire production presently. Her identification with Del Tredici's difficult demands were then, and still are unquestionable. The other soloists seemed either less sure or less engaged, and were furthermore difficult to hear (I have read that this was corrected the following day, but I did not attend). On the other hand, there were no problems at all for narrator Alexandra Silber, who was stunning and nearly stole the show without performing any music. The Detroit forces played staggeringly well, better than their Final Alice – which can be found on YouTube.com – and far better than their somewhat faceless Mozart. Finally, the Wayne choral forces – under esteemed choral director Dr. Norah Duncan IV – sang their hearts out for this very strange and unfamiliar music.
The music was quirky, charming, droll, and often beautiful; all characteristics of Carroll the author as well as Del Tredici the composer. The work had a welcome sense of pacing and drama that made it feel like time was flying…until Part 7, which despite amazing vocal and choral contributions and beyond imaginative settings of the "Walrus and Carpenter" texts, simply died with its length and repetition. Several people even left mid-movement. That's a shame, especially considering that once that section ended, the pacing resumed at a smart clip, leading to a wholly thrilling and satisfying conclusion. Those who did stay were well rewarded. The composer, now 76, was able to reap the rewards of this appreciation by joining the assembled forces on stage.
I can't say that I think Dum Dee Tweedle is going to become a repertoire staple. It meanders just a touch too much, and requires forces that seem excessive. But so too then does Carroll, and as a personal compositional statement, I can only applaud the work as a success. Coupled with a lovely Mozart performance, my musical Thanksgiving feast was one of adventure and discovery. Bravo.
Copyright © 2013, Brian Wigman